More News
Info on the Toontown Species Election
Posted by The Toontown Team on August 8, 2016 at 2:00 PM
Have you registered to vote yet? Got your heart set on a candidate? Completed any research? It's coming up quick, you know! -- We're not talking about the Presidential election, either. We're talking about the one and only
Toontown Species Election
.

After announcing that our eccentric elector,
Alec Tinn
, would be returning to Toontown to host yet another election
(one that will hopefully end up with a much more pleasant outcome than our last one)
Toontown has just been bustling with the news.
While Alec is still getting his preparations -- well,
prepared
-- it's time to spill the beans on what this event is all about!
What's Happening Here?
Throughout Toontown's history, every few years the developers of the game would allow players to vote on a new species to be put in as a playable character. First introduced was monkey, then bear, and then pig. For the first time since 2007, this event is BACK!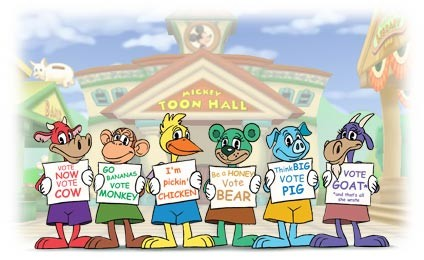 Promotional Image from 2004 Species Election
When Can I Vote?
We've put some rough dates together to show what to expect over the next few months as we hustle and bustle into this big vote. These are just anticipated time frames -- but ultimately it depends on how quickly Alec can count those votes!
August
Nominations will open! Players can nominate any species to participate in the election, as long as it follows our guidelines which will be posted ahead of time. YOU get to have full control of the new species that may enter Toontown!
September
Our candidates will be announced based off of the most popular nominations. Just in time for ToonFest!
October
Several candidates will be eliminated as the next round of voting continues. We're getting closer and closer to the big one!
November
Two species will battle head-to-head for your vote in the Toontown Species Election. Only one will make the cut, but the other certainly won't go down without a good pie fight!
Early 2017
After our species is chosen, our developers will get to work on bringing it to life and involving you players each step of the way. Models must be made, sound effects recorded, and programming performed to get these new animals up and running. The day of their release will be a celebration to remember!
---
We hope that you're as excited as we are to get started on this big event. Don't worry, we have plenty of tricks up our sleeve to make it entertaining. Put those thinking caps on, because the nominations are starting up soon.
As Flippy always says, stay TOONed!
---
Comments
Sorry! Comments are closed.
---
---
---
---
---
---
---
---
---
---
---
---
---
---
---
---
---
---
---
---
---
---
---
---
---
---
---
---
---
---
---
---
---
---
---
---
---
---
---
---
---
---
---
---
---
---
---
---
---
---
---
---
---
---
---
---
---
---
---
---
---
---
---
---
---
---
---
---
---
---
---
---
---
---
---
---
---
---
---
---
---
---
---
---
---
---
---
---
---
---
---
---
---
---
---
---
---
---
---
---
---
---
---
---
---
---
---
---
---
---
---
---
---
---
---
---
---
---
---
---
---
---
---
---
---
---
---
---
---
---
---
---
---
---
---
---
---
---
---
---
---
---
---
---
---
---
---
---
---
---
---
---
---
---
---
---
---
---
---
---
---
---
---
---
---
---
---
---
---
---
---
---
---
---
---
---
---
---
---
---
---
---
---
---
---
---
---
---
---
---
---
---
---
---
---
---
---
---
---
---
---
---
---
---
---
---
---
---
---
---
---
---
---
---
---
---
---
---
---
---
---
---
---
---
---
---
---
---
---
---
---
---
---
---
---
---
---
---
---
---
---
---
---
---
---
---
---
---
---
---
---
---
---
---
---
---
---
---
---
---
---
---
---
---
---
---
---
---
---
---
---
---
---
---
---
---
---
---
---
---
---
---
---
---
---
---
---
---
---
---
---
---
---
---
---
---
---
---
---
---
---
---
---
---
---
---
---
---
---
---
---
---
---
---
---
---
---
---
---
---
---
---
---
---
---
---
---
---
---
---
---
---
---
---
---
---
---
---
---
---
---
---
---
---
---
---
---
---
---
---
---
---
---
---
---
---
---
---
---
---
---
---
---
---
---
---
---
---
---
---
---
---
---
---
---
---
---
---
---
---
---
---
---
---
---
---
---
---
---
---
---
---
---
---
---
---
---
---
---
---
---
---
---
---
---
---
---
---
---
---
---
---
---
---
---
---
---
---
---
---
---
---
---
---
---
---
---
---
---
---
---
---
---
---
---
---
---
---
---
---
---
---
---
---
---
---
---
---
---
---
---
---
---
---
---
---
---
---
---
---
---
---
---
---
---
---
---
---
---
---
---
---
---
---
---
---
---
---
---
---
---
---
---
---
---
---
---
---
---
---
---
---
---
---
---
---
---
---
---
---
---
---
---
---
---
---
---
---
---
---
---
---
---
---
---
---
---
---
---
---
---
---
---
---
---
---
---
---
---
---
---
---
---
---
---
---
---
---
---
---
---
---
---
---
---
---
---
---
---
---
---
---
---
---
---
---
---
---
---
---
---
---
---
---
---
---
---
---
---
---
---
---
---
---
---
---
---
---
---
---
---
---
---
---
---
---
---
---
---
---
---
---
---
---
---
---
---
---
---
---
---
---
---
---
---
---
---
---
---
---
---
---
---
---
---
---
---
---
---
---
---
---
---
---
---
---
---
---
---
---
---
---
---
---
---
---
---
---
---
---
---
---
---
---
---
---
---
---
---
---
---
---
---
---
---
---
---
---
---
---
---
---
---
---
---
---
---
---
---
---
---
---
---
---
---
---
---
---
---
---
---
---
---
---
---
---
---
---
---
---
---
---
---
---
---
---
---
---
---
---
---
---
---
---
---
---
---
---
---
---
---
---
---
---
---
---
---
---
Back To Top