More News
RED ALERT: "Cogs" have Invaded Toontown!
Posted by Toon HQ on April 20, 2014 at 3:00 PM
Toons, this is a special broadcast from Toon HQ. This is
NOT
a drill. All toons are instructed to remain in their houses, shops, and playgrounds until further notice due to the impending robot attacks that could happen at any time, and that we have just recently experienced.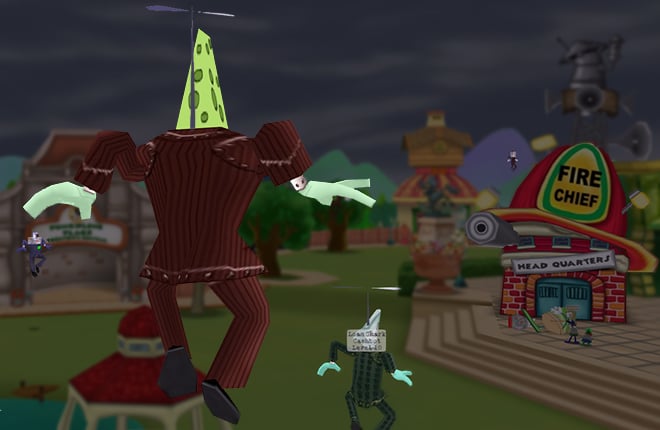 Many toons are unaccounted for, including our newly-elected President of the Toon Council: Slappy Quackintosh. Unbelievably, Slappy's Laff Particles were entirely exhausted, causing him not only to become unbearably sad but to entirely shrink. World-famous billionaire Scrooge McDuck - who wasn't even seen attending the election - has also been reported missing.
To prevent further sadness, Toontown is no longer open to visitors until the new Toon Council, at the lead of President Flippy Doggenbottom, decides what to do with the situation. Thanks to the valiant efforts of the toons of Toontown Central attending the election, we have learned that baked goods - mostly in pie form - seem to do damage against these metal menaces. Loony Labs is looking into why this occurs, and how we can harness it.
We would also like to take the time to thank the shopkeepers of the other playgrounds who held their ground and kept the area safe from any rogue robots who left the main formation in Toontown Central. Among these shopkeepers are Lil' Oldman, Professor Flake, Coach Zucchini, and Shep Ahoy who defended the area by use of traps, surprising sounds, and jokes to keep spirits held high.
The Cogs have flown from our Playgrounds, but the streets are still dangerous. Please stay inside, stay calm, and stay toony. We'll keep you posted as we learn more about these robotic suits, where they came from, and how we can get them out of our town. As Flippy said...
Toons of the world, UNITE!

H.Q. Harry
Toon Headquarters Officer
---
Comments
Sorry! Comments are closed.
---
---
---
---
---
---
---
---
---
---
---
---
---
---
---
---
---
---
---
---
---
---
---
---
---
---
---
---
---
---
---
Back To Top