More News
Toontown Has Reached 1,000,000 Members!
Posted by Sir Max on July 19, 2016 at 7:00 PM
Stop the presses! Someone call the President! Steve -- put down that sandwich and
listen to me!
As of today at 12PM Toontown time,
Toontown has officially reached ONE MILLION members!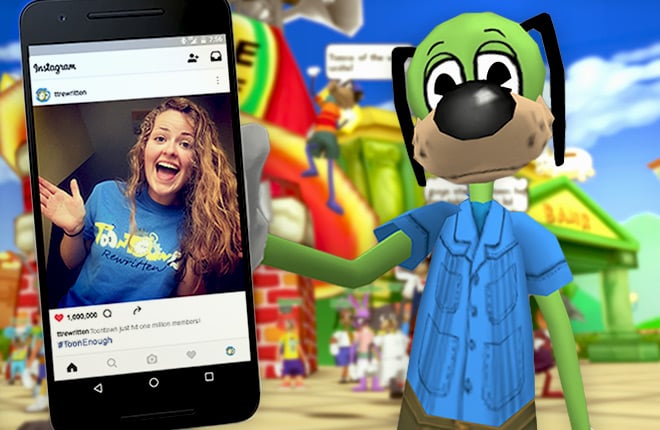 This is a monumental step that we've been getting anxious for. We knew that we had a big turnout shortly after Toontown opened its doors, but it has grown bigger than ever with nearly 600,000 accounts created solely in the past year.
To celebrate an occasion so monumental, we're going to need your help. With so many members on our side, we want your help in showing the rest of the world that we're truly "Toon Enough".
Tomorrow starting at
2PM Toontown Time
(PST), we're asking you to send out a tweet, status update, picture, or any other social media post using
#ToonEnough
to spread news from the Tooniverse across the universe!
By sending out a message on
Twitter
,
Instagram
,
Facebook
, or
Google+
by 8PM Toontown Time, you'll be automatically entered to win an exclusive Toontown poster that will be mailed straight to your door. There are only 100 in existence!
Your post can be about anything Toontown related -- and you can post as many times as you want to have higher chances of winning! That doesn't mean you can go and spam #ToonEnough every minute - but it does mean you can share all sorts of screenshots, pictures, stories, and excitement throughout the day to keep the celebration going.
Thank you all so much for getting us where we are today. Now let's go out and spread the news around the world that we're
TOON ENOUGH!
---
Comments
Sorry! Comments are closed.
---
---
---
---
---
---
---
---
---
---
---
---
---
---
---
---
---
---
---
---
---
---
---
---
---
---
---
---
---
---
---
---
---
---
---
---
---
---
---
---
---
---
---
---
---
---
---
---
---
---
---
---
---
---
---
---
---
---
---
---
---
---
---
---
---
---
---
---
---
---
---
---
---
---
---
---
---
---
---
---
---
---
---
---
---
---
---
---
---
---
---
---
---
---
---
---
---
---
---
---
---
---
---
---
---
---
---
---
---
---
---
---
---
---
---
---
---
---
---
---
---
---
---
---
---
---
---
---
---
---
---
---
---
---
---
---
---
---
---
---
---
---
---
---
---
---
---
---
---
---
---
---
---
---
---
---
---
---
---
---
---
---
---
---
---
---
---
---
---
---
---
---
---
---
---
---
---
---
---
---
---
---
---
---
---
---
---
---
---
---
---
---
---
---
---
---
---
---
---
---
Back To Top