More News
ToonFest 2016
Posted by The Toontown Team on August 20, 2016 at 2:00 PM
Whether a new Toon or old, chances are you've heard the talk around town about a certain upcoming event in our town. Three years ago to this very day, Disney announced that Toontown Online was going to be closing. And
two years ago
, we announced that we were opening it up again for everyone.
On September 19th, we're starting up the most TOONTASTIC celebration of the year:
ToonFest
!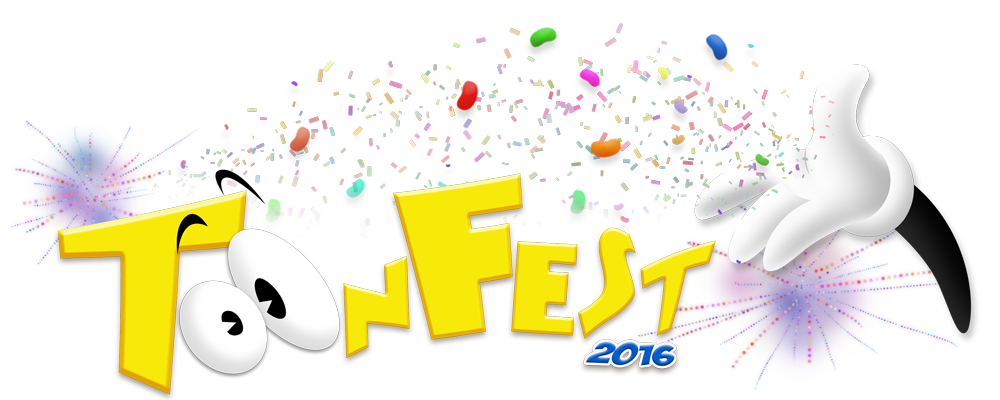 ---
What is ToonFest?
ToonFest, based on the name of Disney's real-life Toontown party at Disneyland and Disney World, is the annual celebration of all things Toontown! It's time to take a break from the Cog battles, make some new friends, and play some fun games while we think about how far we've come.
This year also marked the monumental second
ToonFest at OMGCon
, which isn't to be confused with the annual in-game ToonFest celebration. Every year, we will hope to have one real-life ToonFest to kick off the summer and Toontown's birthday, followed by the larger in-game ToonFest to wrap it all up with Toontown
Rewritten's
birthday -- which is what we're doing now!
---
What happens at ToonFest?
On September 19th, the official ToonFest celebration kicks off and we'll start telling you all about the Toontastic new gameplay that we'll be releasing throughout the event. Last year we built upon the ToonFest area with all sorts of new interactive content.
Here's a little synopsis of everything that last year's celebration had to offer!
Over in Acorn Acres, you can enter the ToonFest party grounds to join the fun.
Enter the most awesome area in Toontown with the giant Merry-go-Round, (Jelly) Bean Bags, and plenty of activities to keep you occupied while chatting up with friends.
A grand fireworks spectacular lights up the sky every three hours, and if you come a bit early you'll be able to catch the sunset.
Earn "ToonFest Tokens" to buy special items, accessories, and even a unique Toon color -- only available once per year!
---
What's new this year?
You don't think we'll just spill our secrets, do you? You'll have to wait until the event to learn what exciting additions we're making to the event! We can tell you that we've listened to your suggestions and ideas, and this year there's bound to be something for every type of player to get involved with the celebration.
In addition to our
Backstage Toontown
posts to lead up to the event, you'll also get the chance to participate in a lot of new plans we have for social media giveaways and events such as last weeks "Ask Toontown" segment.
There's never been a better time to follow along with us on our social platforms, which we've linked here:
Facebook
,
Twitter
,
Instagram
,
Google+
,
Tumblr
,
YouTube
, and
Snapchat
(ToontownTV)
---
What is there to celebrate?
Toontown Rewritten has come a long way since we first announced the game two years ago, and every year it's getting better! We like to use this post to announce some exciting numbers about the game:
Toontown has:
A peak population of 6,134 Toons
Over 250,000 Cogs crushed daily
...And the most TOONTASTIC fans in the Tooniverse who have gotten us here!
ToonFest is back, bigger, and better than ever. But before you put on your party hat and hop on the hype train, we need you to tell us one single thing:
Are YOU Toon Enough?
---
Comments
Sorry! Comments are closed.
---
---
---
---
---
---
---
---
---
---
---
---
---
---
---
---
---
---
---
---
---
---
---
---
---
---
---
---
---
---
---
---
---
---
---
---
---
---
---
---
---
---
---
---
---
---
---
---
---
---
---
---
---
---
---
---
---
---
---
---
---
---
---
---
---
---
---
---
---
---
---
---
---
---
---
---
---
---
---
---
---
---
---
---
---
---
---
---
---
---
---
---
---
---
---
---
---
---
---
---
---
---
---
---
---
---
---
---
---
---
---
---
---
---
---
---
---
---
---
---
---
---
---
---
---
---
---
---
---
---
---
---
---
---
---
---
---
---
---
---
---
---
---
---
---
---
---
---
---
---
---
---
---
---
---
---
---
---
---
---
---
---
---
---
---
---
---
---
---
---
---
---
---
---
---
---
---
---
---
---
---
---
---
---
---
---
---
---
---
---
---
---
---
---
---
---
---
---
---
---
---
---
---
---
---
---
---
---
---
---
---
---
---
---
---
---
---
---
---
---
---
---
---
---
---
---
---
---
---
---
---
---
---
---
Back To Top