More News
ToonFest 2014
Posted by The Toontown Team on August 20, 2014 at 2:00 PM
One year ago today, we started development on a project that would come to be known as Toontown Rewritten. Our intentions were clear: We weren't ready to let Toontown die just yet, and neither were you. The journey to get here has been incredible, and we've accomplished so much with your help. After hours upon hours spent building it, it's finally time to open the doors of Toontown for everyone all over again.
Toons and Toonettes, it's time to talk about
ToonFest
!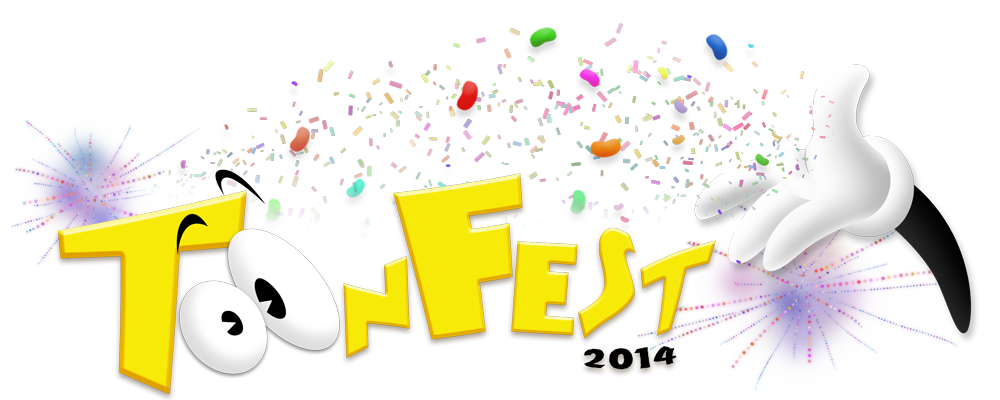 ToonFest is the celebration of all things Toontastic for Toons far and wide, where we can all meet up and take some time off from the Cog Battles to meet new friends, play some games, and think about how far we've come to get where we are today. Whether you're a veteran player and Laff-hard gag strategist, a new Toon in town who's still learning not to use sound on lured Cogs (Toon TIP: Don't do that!), or even someone who hasn't stepped foot in town for years -- this is the perfect chance to bring on the nostalgia and celebrate another year of Toontown!
Disney hosted two ToonFests in the lifetime of Toontown, both of which took place in-game and out-of-game. We're going to have to hold off on the out-of-game event this year, but that doesn't meant that we can't make the in-game version greater than ever before. Enough with the details, though -- let's talk about what's going to happen for this next month leading up to the game's opening and the start of ToonFest on
September 19, 2014
!
---
Toontown Rewritten's Launch
In case we haven't said it enough -- Toontown Rewritten is opening to the public on September 19th to coincide with the beginning of ToonFest! Note that Toontown isn't done just yet, and we still have some features left to knock out as well as a couple of bugs to squash. (Besides -- we haven't even announced the end of Beta event!) Because of our awesome Tester Toons, however, we're ready to let you into Toontown to fight the Cogs during the final stage of Toontown Rewritten's testing: Open Beta.
Make sure to check out our
Opening F.A.Q.
for everything you need to know to prepare for the launch of Toontown!
---
Backstage Toontown
At least once per week leading up to ToonFest, we're going to be updating the blog with all sorts of exclusive information about future content, what we've been doing for the past year, and what it's like to develop Toontown.
There's some awesome things in there for everyone, so you aren't going to want to miss it!
---
New Items and Accessories
While we may be scrapping PlayTimes and Beta Keys, no way are we going to forget about our valiant Tester Toons! Alpha Testers, Beta Testers, and PlayTime Testers will all get special items and accessories as a thanks for sticking with us to help out this past year.
In addition to the Tester-Tees, all in-game attendants of ToonFest 2014 will get an awesome item or two for their Toon. Stick around to see the designs!
---
ToonFest 2014
To launch Launch Day with a bang, we'll be opening up a brand new area in Acorn Acres built specifically for ToonFest to hang out and meet new friends to take on your journey throughout Toontown! While we can't promise anything on the scale of the Toon Council Presidential Election (We're saving that for later), we will be designing a brand new area for some fun activities and events, as well as the chance to get to hang out with us team members who helped create Toontown Rewritten!
ToonFest will last all weekend until Monday, September 22nd, where we'll close the doors on the new event area and wrap things up until next year.
---
It has been an amazing year for us here at Toontown Rewritten, and we want to send a
HUGE
shout-out to our amazing testers and community members who have stuck with us for so long, as well as a big welcome to all of the new Toons who are just joining us! Between our complete total of
2,000
keyed testers,
150,000
Registered accounts, and
375,000
scheduled PlayTimes, we can say without any doubt that you Toons have blown away all expectations that we could ever hope for.
It's been one long year -- no doubt about that -- and it's finally all going to be worth it. Toontown needs your help once again. There's only one question we have left:
Are YOU Toon Enough?
---
Comments
Sorry! Comments are closed.
---
---
---
---
---
---
---
---
---
---
---
---
---
---
---
---
---
---
---
---
---
---
---
---
---
---
---
---
---
---
---
---
---
---
---
---
---
---
---
---
---
---
---
---
---
---
---
---
---
---
---
---
---
---
---
---
---
---
---
---
---
---
---
---
---
---
---
---
---
---
---
---
---
---
---
---
---
---
---
---
---
---
---
---
---
---
---
---
---
---
---
---
---
---
---
---
---
---
---
---
---
---
---
---
---
---
---
---
---
---
---
---
---
---
---
---
---
---
---
---
---
---
---
---
---
---
---
---
---
---
---
---
---
---
---
---
---
---
---
---
---
---
---
---
---
---
---
---
---
---
---
---
---
---
---
---
---
---
---
---
---
---
---
---
---
---
---
---
---
---
---
---
---
---
---
---
---
---
---
---
---
---
---
---
---
---
---
---
---
---
---
---
---
---
---
---
---
---
---
---
---
---
---
---
---
---
---
---
---
---
---
---
---
---
---
---
---
---
---
---
---
---
---
---
---
---
---
---
---
---
---
---
---
---
---
---
---
---
---
---
---
---
---
---
---
---
---
---
---
---
---
---
---
---
---
---
---
---
---
---
---
---
---
---
---
---
---
---
---
---
---
---
---
---
---
---
---
---
---
---
---
---
---
---
---
---
---
---
---
---
---
---
---
---
---
---
---
---
---
---
---
---
---
---
---
---
---
---
---
---
---
---
---
---
---
---
---
---
---
---
---
---
---
---
---
---
---
---
---
---
---
---
---
---
---
---
---
---
---
---
---
---
---
---
---
---
---
---
---
---
---
---
---
---
---
---
---
---
---
---
---
---
---
---
---
---
---
---
---
---
---
---
---
---
---
---
---
---
---
Back To Top