More News
Quadruple Access Weekend...?
Posted by Fat McStink on August 6, 2014 at 2:00 PM
It is a truth universally acknowledged, that a single Toon in possession of a good fortune, must be in want of a key. However, little known the feelings or views of a such a Toon on the subject of the PlayLine, which is considered to be the rightful play time for the majority of Toons...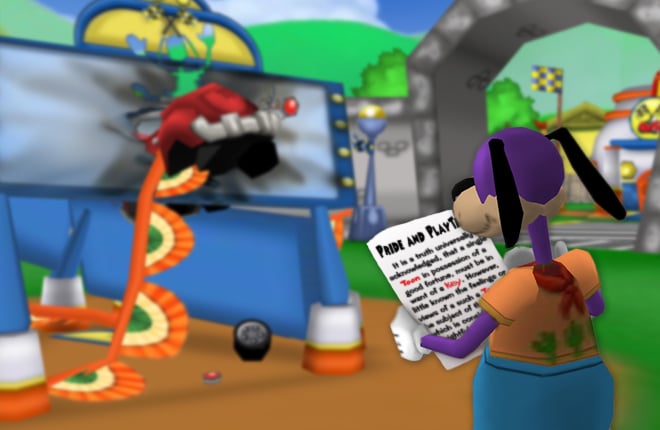 Hi guys! I was just practicing an excerpt from my new play:
Pride and PlayTimes
. The story of a Toon who comes across not only 500 additional keys, but as well as the mighty struggle of -- not double, not triple -- but
QUADRUPLE Access Weekend
with double the slots and double the time!
You know, I don't remember writing that in the script... In fact, this isn't my handwriting, and I'm pretty sure I didn't write a part about Sir Max coming in and becoming the hero of Toontown. Oh well, the script says so! It goes on to say that on
Friday, August 8th at 2:00PM Toontown Time
, PlayTime and PlayLine slots will be doubled (Adding an astounding record of 80 new slots!), and the session limit will raised once again to 6 hours for the weekend.
Riveting!
It may not be as much as of a hit as my previous play,
Doglet
, Prince of Dogmark, but based on the popularity of Double Access Weekend and the
3,000 Toons
currently waiting in the PlayLine, I'm betting that this is going to be a smash! (And hopefully, not a crash.)
I'm off to practice for the big performance. See you there!
August 6, 2014 [ttr-beta-v1.3.16]
Maintenance:
• Whitelist and moderation update

Bugfixes:
• Put an end to a major reoccurring issue where Toons would create "ghosts" when disconnecting uncleanly
• Resize the reward screen to fit all elements
• Fix typos in Toontown Central's task line

Tweaks:
• Improve reward screen experience length
• Make Beta Key ToonTasks more common

Website:
• Clean up the PlayLine and fix an issue causing occasional line resets

---
Comments
Sorry! Comments are closed.
---
---
---
---
---
---
---
---
---
---
---
---
---
---
---
---
---
---
---
---
---
---
---
---
---
---
---
---
---
---
---
---
---
---
---
---
---
---
---
---
---
---
---
---
---
---
---
---
---
---
---
---
---
---
---
---
---
---
---
---
---
---
---
---
---
---
---
---
---
---
---
---
---
---
---
---
---
---
---
---
---
---
---
---
---
---
---
---
---
---
---
---
---
---
---
---
---
---
---
---
---
---
---
---
---
---
Back To Top