More News
Population: BURSTING!
Posted by Sir Max on July 19, 2014 at 6:18 PM
WE DID IT, TOONTOWN!
Just one hour ago at 5:18 Toontown Time, we hit the mark of a total of 1,000 Toons in town at once. Better yet, the performance was smooth as butter.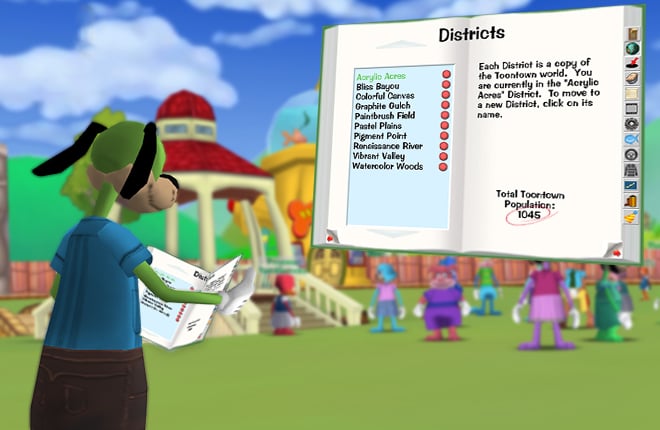 Just last week, we told you that us Toon Troopers were going to be taking a bit of time to clean up around town to make way for more Toons. We expected this to take a while, but in under a week we managed to iron out many of the issues and provide a super smooth experience for everyone during Double Access Weekend. Granted, there are still plenty of bugs to squash -- but this is just another step towards officially opening the town!
Double Access Weekend is no Monster Truck Rally by any means, (Thanks for starting that
petition
, fellas!) but it has certainly been tons of fun so far, though, and we're ready to have some more. As Toontown continues to grow, we'll keep letting out more and more PlayTimes and shortening the PlayLine to let more of you Toons in. Based on some recent reports from the Toon Resistance -- we're going to need you.
Speaking of PlayTimes, you Toons better be up bright and early tomorrow at
8AM Toontown Time (PST)
for more PlayTime sessions! We'll be releasing a few more slots so that everyone gets a chance to grab one of the
quadrupled
(That's still a fun word!) doubled PlayTimes before they disappear tomorrow at 11:30PM.
Ah, there's just nothing like the smell of pie in the morning.
July 19, 2014 [ttr-beta-v1.3.8]
Maintenance:
• Increase the amount of Toons that can be in a district
• Add all Pick-a-Name combinations to the whitelist
• Add a handful of community-suggested words to the whitelist (1,914 new words!)

Bugfixes:
• Fix a crash relating to Cog building elevators
• Fix a crash when using SpeedChat in Trolley Games

Tweaks:
• Increase the rate of discovering key tasks to help out Double Access Players
• Patch up an exploit found in the teleportation system created by Doctor Surlee

---
Comments
Sorry! Comments are closed.
---
---
---
---
---
---
---
---
---
---
---
---
---
---
---
---
---
---
---
---
---
---
---
---
---
---
---
---
---
---
---
---
---
---
---
---
---
---
---
---
---
---
Back To Top