More News
Return of the Spooktown Curse
Posted by Jack O. Kazam on October 25, 2017 at 2:30 PM
Double, double, toil and trouble;
Pies splat, and cauldron bubble.
Hallow's Week has come, so you'd better scram
Or face the curse of Jack O. Kazam.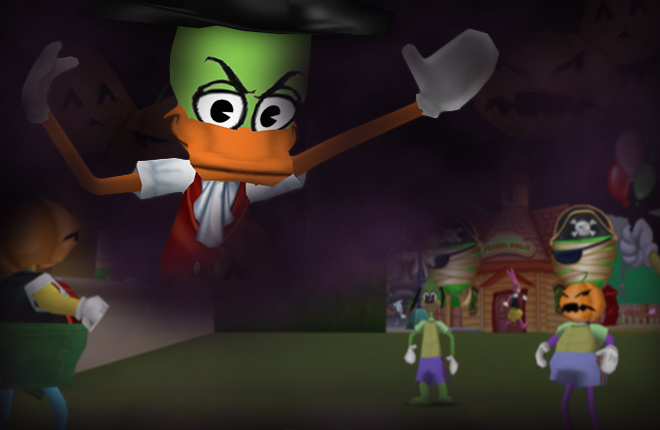 Upon this week, for the last three years
I've sent frights upon Toontown - a Toon's greatest fears.
And the reason, of course, why I put Toons through this tax
Is all thanks to a dog that they call Sir Max.

Run if you want, but there's nowhere to hide!
Your treats are tricked, if you follow the guide.
So dress up in your costumes, go from door to door
But if you complete the route, you'll have pumpkins galore.

Is that not enough? Must you tempt the fates?
Pumpkin heads aren't the only trick that awaits...
All around Toontown, you'll find my spellbound bags.
Some contain beans, or a trick for scalawags!
The sky looms grey, as I watch over you all.
The pride of a dog will be Spooktown's fall.
Decorations along the path will be your only light
On this Halloween, Cogs aren't the only fright.
Pumpkins upon heads, bags full of tricks,
Skies looming dark, a curse only Toons can fix.
I've placed my curse on the website, too!
Beware, dear Toon, or the curse might even reach you.


---
Comments
Sorry! Comments are closed.
---
---
---
---
---
---
---
---
---
---
---
---
---
---
---
---
---
---
---
---
---
---
---
---
---
---
---
---
---
---
---
---
---
---
---
---
---
---
---
---
---
---
---
---
---
---
---
---
---
---
---
Back To Top