More News
The Wizard Who Haunted Halloween
Posted by Jack O' Kazam on October 23, 2014 at 4:00 PM
Eerck heh hehck...
Gather around, guys and ghouls, for a story -- a spooky story, at that.
I've written it on my scroll, a scroll I can't retract.
You see, every Toon down in Toontown likes Halloween a lot.
... And it'd be a lie if I told you: "I did not."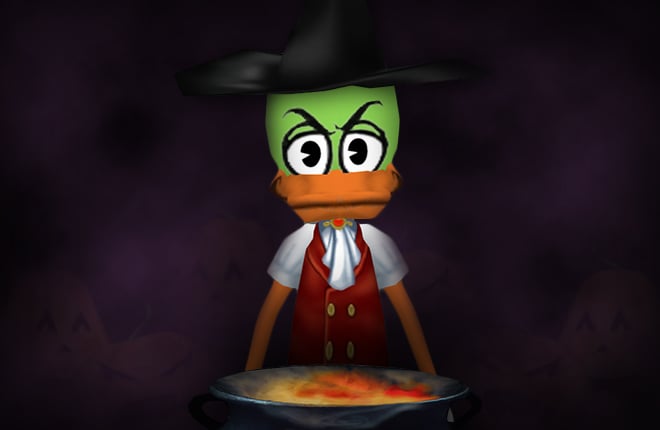 I'm quite fond of Halloween, the whole Halloween season!
But this year, my love has changed for a very
green
reason.
I could mention the trees, grass, or candy-stuck paws
Though I'd rather just tell you:
Sir Max is the cause.
He's taken my hats, my glasses, backpack, and shoes.
And those Toons have bought each one, despite the news!
And so for those reasons:
Backpacks, glasses, and shoes,
I stand here on Hallow's eve, despising you Toons.
I've stared down my cauldron with a sweet, little frown
Because of it all, things are about to get spooky in Toontown.
You see, I have an idea.
Ohoho, a wicked idea.
I've conjured up a
wonderfully
wicked idea.
Every Toon who Treat-or-Tricks, from the
Twenty-fifth to the First
,
Will be receiving a visit from my
Pumpkin Head Curse!
Jack O' Cadabra, Hocus Presto, Kazam!
Never again, I tell you, will I be given this scam.
None of you will be able to take me down.
This Halloween, I
own
Toontown.
A head of pumpkin, taking place of your hat!
Not one of any able to meet my match.
October 22, 2014 [ttr-beta-v1.6.2]
Maintenance:
• Major Accessories and Closet cleanup

Bugfixes:
• Fix a district reset relating to accessories
• Fix a bug where some Toons received too many Trunks in the mail
• Properly set accessories when logging back into the game

October 23, 2014 [ttr-beta-v1.6.3]
Maintenance:
• Fix a server-sided engine issue

Bugfixes:
• Fix an issue where the mailbox would be accidentally cleared if the Toon had extra Accessory Trunks.

---
Comments
Sorry! Comments are closed.
---
---
---
---
---
---
---
---
---
---
---
---
---
---
---
---
---
---
---
---
---
---
---
---
---
---
---
---
---
---
---
---
---
---
---
---
---
---
---
Back To Top