More News
Double Experience, Triple Performance!
Posted by The Toontown Team on October 10, 2014 at 2:30 PM
It's been just a few hours since Double Experience Weekend started up, and the Cogs are already getting their cans kicked! Toons everywhere have been piling up on their experience, and it's about to get a whole lot sillier with the
Toon Resistance Marathon
that starts up at
3:00PM PST
(Just an hour away from when this post was made!)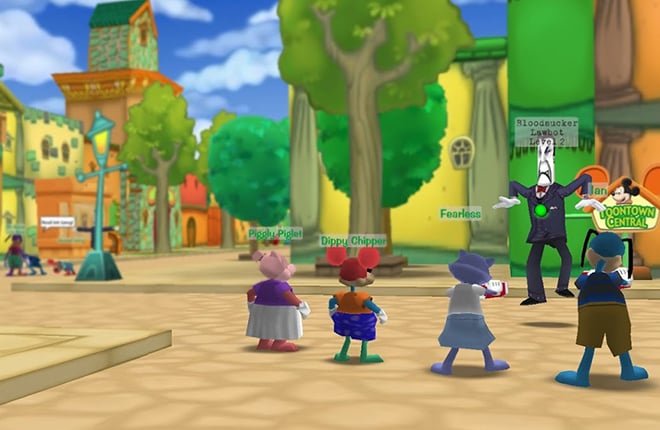 Aside from the great gagwork, you may have noticed something even more exciting coming in to Toontown. As always, us folks over on the team are are not only working on making Toontown better than ever, but also continuing to improve the game's performance and safety. Just today, in addition to Double Experience Weekend, we launched a
BIG update
to fix plenty of the issues you Toons warned us about!
As you run through the streets to take down those buildings, hopefully you'll notice that you're running smooth as butter with our various tweaks and fixes. We encourage you to check out high-population areas to see just how much it works for you, and what we have left to patch up.
Throughout the week we've also released a bunch of updates to address the Periwinkle issues that you have been emailing us. If you're still having issues -- we haven't forgotten! We're still working on the last batch of muck-ups (A lot of which have been fixed in the last update!), and we'll keep fixing them as you report them to us.
Thanks for keeping up to date on the news of all things Rewritten -- and have fun with Double Experience Weekend!
October 10, 2014 [ttr-beta-v1.5.13]
Maintenance:
• Engine update! You'll notice some significant performance improvements, along with a few other neat features.

Bugfixes:
• Patch up a major bug that would cause stuttering and freezing when a Toon is loaded into an area.
• Fix a few issues with the Laff corrector.

Features:
• Double Experience Weekend has begun!
• The Resistance Salute is now available by helping out a certain Whispering Willow in Donald's Dreamland...
• Abominable SnowToons have been spotted in the Brrrgh! I wonder if it has anything to do with that Polar Bear on Polar Place...

October 10, 2014 [ttr-beta-v1.5.14]
Bugfixes:
• Double Experience Weekend now affects invasions as well.

October 10, 2014 [ttr-beta-v1.5.15]
Bugfixes:
• Fix an issue with some Toons getting stuck on "Just for Fun!" ToonTasks.
• Double Experience Weekend now properly affects Cog Buildings.

---
Comments
Sorry! Comments are closed.
---
---
---
---
---
---
---
---
---
---
---
---
---
---
---
---
---
---
---
---
---
---
---
---
---
---
---
---
---
---
---
---
---
---
---
---
---
---
---
---
---
---
---
---
---
---
---
---
---
---
---
---
---
---
---
---
---
---
---
---
---
---
---
---
---
---
---
---
---
---
---
---
---
---
Back To Top