More News
Spooktown's Trick-or-Treat Week
Posted by Sir Max on October 25, 2014 at 2:00 PM
If you haven't noticed by the decorations, costumes, candy, and ominous dark clouds signaling the end of Toon-kind as a whole: Today marks the start of Toontown's annual
Trick-or-Treat Week!
As the tradition goes, six shopkeepers from around town have volunteered to distribute Jellybeans until
November 1st
to any wacky Toons who walk in their door and say "Trick or Treat!" -- but you're going to have to solve a spooky riddle to find them!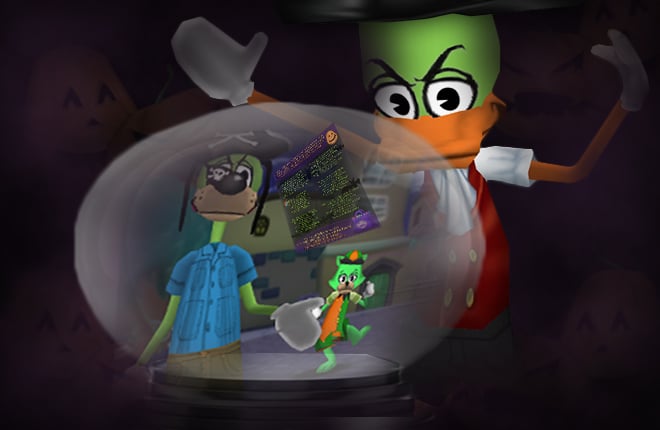 Trick or Treat Week isn't all fun and games though, because the forecast is calling for a
100% chance of gloom and darkness
all around Spooktown -- err, Toontown. Now, I know what we're all thinking: "A bunch of dark clouds showed up when that
fake wizard said it would
. His curse must have been real!"
Well, my trickster Toons, I'm legally obligated to tell you that there is in fact
no danger at all
this Halloween, and Trick or Treating is completely safe. That said, I can also tell you that I am definitely
not
packing my bags for the upcoming apocalypse! That'd just be silly. I mean, someone would have had to anger a
real
wizard for that to happen...
Heh.
As for the clouds, you know who I blame? The weatherman. That guy was in a sour mood this morning and now we have all of this gloom. Typical. It certainly won't put a stop to our Trick-or-Treat Week, however, because
BAM
: Here are the riddles.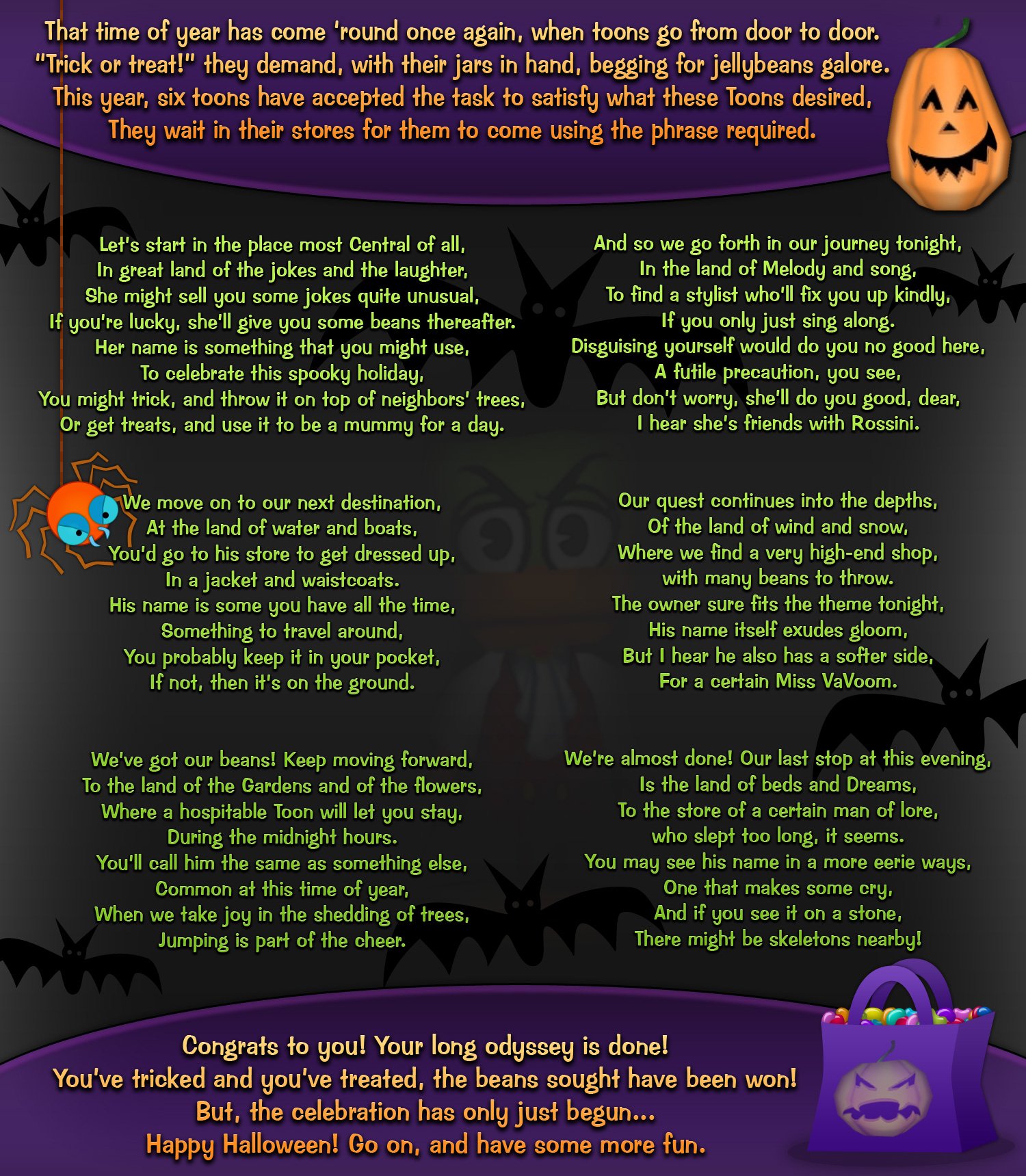 I'd love to stay and help, but the apocalypse doesn't plan for itself, and I'd prefer to get out of here before that
Pumpkin Headed Curse
(Which
definitely
isn't real.) takes effect on you poor fellas.
See you in the bunker. Don't forget your pre-canned pie supplies!
October 25, 2014 [ttr-beta-v1.6.4]
Maintenance:
• Implement the Holiday Manager for better event management. Get ready for a lot more events coming up soon!

Features:
• Add some spooky new decorations for Halloween.
• Trolley Tracks is back! Hop on the Trolley every Thursday for some Minigame fun.
• Bingo Wednesdays has also returned!
• Things are getting dark in Toontown... Is Jack O' Kazam's curse real?
• Grab some friends and solve the riddle to earn Jellybeans by Trick-or-Treating at six secret shops, but beware the Pumpkin Headed Curse!

---
Comments
Sorry! Comments are closed.
---
---
---
---
---
---
---
---
---
---
---
---
---
---
---
---
---
---
---
---
---
---
---
---
---
---
---
---
---
---
---
---
---
---
---
---
---
---
---
---
---
---
---
---
---
---
---
---
---
---
---
---
---
---
---
---
---
---
---
---
Back To Top