More News
Bloodsucker Weekend
Posted by Toon HQ on October 29, 2014 at 2:00 PM
ATTENTION ALL TOONS: A Cog Invasion has Begun!
Bloodsuckers are taking over Spooktown!
As if things couldn't get any more horrific around here, we just received reports that the Bloodsuckers have launched a full scale Mega-Invasion on Toontown! Watch out for the Bloodsucker's bite, spooky scary Skelecogs, and the worst of all: V2.0 Cogs.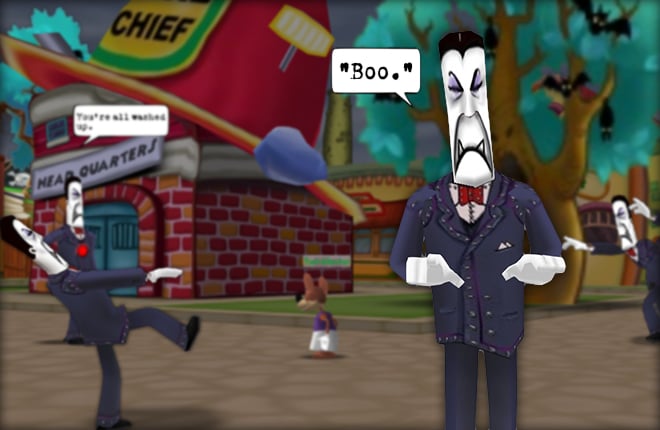 Grab some Gags and prepare for attack, because the Cogs aren't happy at all about our Halloween celebrations. We're going to need all the help we can get to drive back these Bloodsuckers. If all goes well, we'll have them defeated right as Trick or Treat Week is over at the end of
November 1st
.
Now go, and teach those boring Bloodsuckers who the real vampires of Toontown are!
October 29, 2014 [ttr-beta-v1.6.6]
Maintenance:
• Cleanup for Accessories.

Bugfixes:
• Fix a common crash on streets relating to elevators.
• Fix a crash when visiting the Golf Zone in Acorn Acres.

Features:
• Bloodsuckers have invaded Toontown with a Mega-Invasion!
• Due to popular demand, Pumpkin Heads will now stick around until the end of Trick or Treat week. This will happen with future event effects as well.

---
Comments
Sorry! Comments are closed.
---
---
---
---
---
---
---
---
---
---
---
---
---
---
---
---
---
---
---
---
---
---
---
---
---
---
---
---
---
---
---
---
---
---
---
---
---
---
---
---
---
---
---
---
---
---
---
---
---
---
---
---
Back To Top