More News
Tom's Toontorials: Welcome Valley
Posted by Tutorial Tom on November 6, 2014 at 2:30 PM
Howdy there! It's great to see you again. I'm Tutorial Tom, and welcome to one of my Toontastic Toontorials!
Today is the Toon Council's latest addition to the Tooniverse of Toontown:
Welcome Valley
.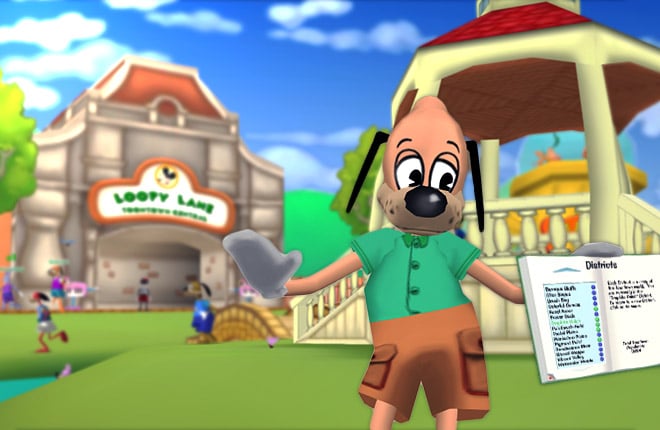 If you didn't know, Toontown is split up into a bunch of different districts, which can be accessed through your Shticker Book. Each district is the same version of the Toontown world, but with some slight changes. Some districts could have active Cog Invasions, others could have buildings taken over by the Cogs, and all of them have different amounts of Toons in each.
TOON TIP: If you're having performance issues or trouble finding Toons, try switching to a different district!


Welcome Valley, however, is a bit different. Because of all of the new Toons that have been arriving in Toontown, the Toon Council has made a district specifically for them! When you're the new Toon in town, you'll be taken straight to Welcome Valley after leaving my introductory Toontorial to a bunch of Toons just like you.
Welcome Valley is free of Cog Invasions, but you probably don't want to stay there very long in case you go exploring. Here is how Welcome Valley works:
• Unlike other districts, Welcome Valley is a sub-district of Toontown. This means that there is more than one Welcome Valley.

• If you're trying to find a friend in Welcome Valley, you may not see them due to being in different sub-districts! For example, you might be in "Welcome Valley, Easel Acres" while your friend is in "Welcome Valley, Graphite Gulch."

• When teleporting to Welcome Valley, you'll automatically be taken to Toontown Central to be with the new Toons. You'll leave Welcome Valley as soon as you leave Toontown Central.


So whether you're a new Toon in town who needs to stick around the Central, or a high laffer looking to help out others -- Welcome Valley is the place to be. Hope you enjoy!
November 2, 2014 [ttr-beta-v1.6.7]
Maintenance:
• Experimental server-sided engine update. Let us know if you see any oddities.

Bugfixes:
• Fix an issue with Toons being unable to remove accessories.
• Fix a typo in ToonTask dialogue.
• FIx the Cattlelog hangup button not being visible on smaller screen sizes.

November 6, 2014 [ttr-beta-v1.6.8]
Maintenance:
• Temporarily revert server-sided engine update to fix bugs we've seen over the past few days.
• Code cleanup for Nametags.

Bugfixes:
• Nametags are now properly hidden on "trolley-bot" Cogs.
• Greatly improve accuracy of whisper and nametag clicking.
• Fix a crash relating to Cog Buildings on streets.
• Fix a bug where a new Toon could get stuck on the Trolley if they didn't earn any beans.
• Fix a bug where Trolley Tracks wouldn't count towards the "Ride the Trolley" ToonTask.
• When buying from the Cattlelog, beans are now taken from the Jellybean Bank rather than the Jellybean Jar.

Features:
• Implement "Welcome Valley" district.

---
Comments
Sorry! Comments are closed.
---
---
---
---
---
---
---
---
---
---
---
---
---
---
---
---
---
---
---
---
---
---
---
---
---
---
---
---
---
---
---
---
---
---
---
---
---
---
---
---
---
---
---
---
---
---
---
---
---
---
---
---
---
---
---
---
---
---
Back To Top