More News
Abracadabra, Accessories!
Posted by Sir Max on October 18, 2014 at 2:00 PM
Get ready for this, Toons! The Toon Council has been searching quite a while for someone to write this post. Toontown is about to get more style than it's ever had since those ToonFest tees, and they needed someone cut out for the job of announcing it. They needed charisma, looks, and an ego big enough to fit the hat on his head...
Luckily,
I think I know a guy.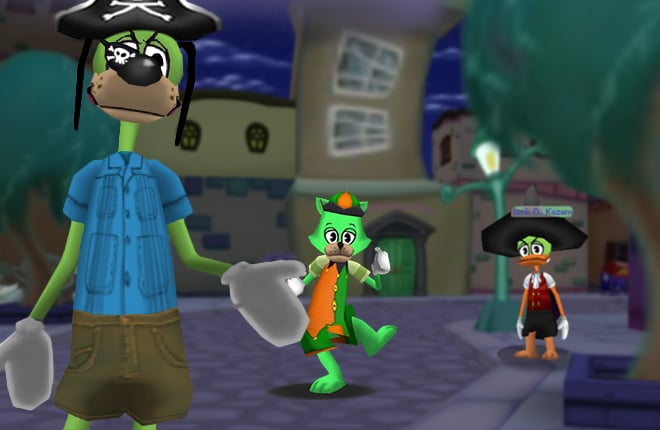 My my, it's been
quite a while
since I last spoke with ye! I've been up to all sorts of projects since then -- shenanigans, as some would call them. There was that run-in with with the forest monster known as "Fluffy", then I worked with Fisherman Nutty on setting up a fly-geyser-fishing championship before the Toon Council shut us down. Oh, I also
met a wizard!
Don't worry, I didn't anger a wizard this time. Well I mean I did, but not intentionally. And this guy isn't actually a wizard -- he just enjoys wearing the hat. Probably. He's at least not like
the last wizard
I angered.
Probably.
I met the guy a few weeks ago -- Jack O. Kazam I believe his name was -- while strolling around town. He had this awesome collection of hats, so I said "Hey! Mind if I go ahead and sell some of these in the Cattlelog for Halloween?"
He said no. But we did it anyway! Courtesy of Clarabelle, we've sent out a
FREE Accessory Trunk
to every citizen of Toontown, which can be used to store the newest addition to Toontown's most famous Cattlelog:
Accessories!
We've also got two new Halloween Costumes heading your way -- a Jester outfit for boys, and a Witch outfit for girls. Luckily, that one was indeed not stolen from a witch.
Get the costumes while you can, because Halloween is coming up quick! I'm emptying out my Jellybean Jars for an all-night trick
and
treating marathon, and I've heard that Flippy and his monster "Fluffy" have some tricks up their sleeves too.
October 18, 2014 [ttr-beta-v1.6.0]
Maintenance:
• Improve chat logging
• Code cleanup for doors to improve performance and fix a few bugs
• Introduce a major server-sided engine update

Bugfixes:
• Fix a handful of major client crashes. You should notice a big improvement!
• Fix a server-sided memory leak relating to estates

Features:
• Accessories have arrived! Every Toon will receive a trunk in their mailbox after stopping by their house.
• Redo the art direction of accessories to improve the look and quality of many of them. Let us know what you think!
• Add two new Halloween Costumes: A Witch and a Jester!

---
Comments
Sorry! Comments are closed.
---
---
---
---
---
---
---
---
---
---
---
---
---
---
---
---
---
---
---
---
---
---
---
---
---
---
---
---
---
---
---
---
---
---
---
---
---
---
---
---
---
---
---
---
---
---
---
---
---
---
---
---
---
---
---
---
---
---
---
---
---
---
---
---
---
---
---
---
---
---
---
---
---
---
---
---
---
---
---
---
---
---
---
---
---
---
---
---
---
---
---
---
---
---
---
---
---
---
---
---
---
---
---
---
---
---
---
---
---
---
---
---
---
---
---
---
---
---
---
---
---
---
---
---
---
---
---
---
---
---
---
---
---
---
---
---
---
---
---
---
---
---
---
---
---
---
---
---
---
---
---
---
Back To Top