More News
Resistance Rangers, Assemble!
Posted by Good ol' Gil Giggles on October 9, 2014 at 3:45 PM
Greetings, from the Toon Resistance!
I'm
Resistance Ranger
Good Ol' Gil Giggles, though you can call me Gil. Or Giggles. Probably not Good Ol'.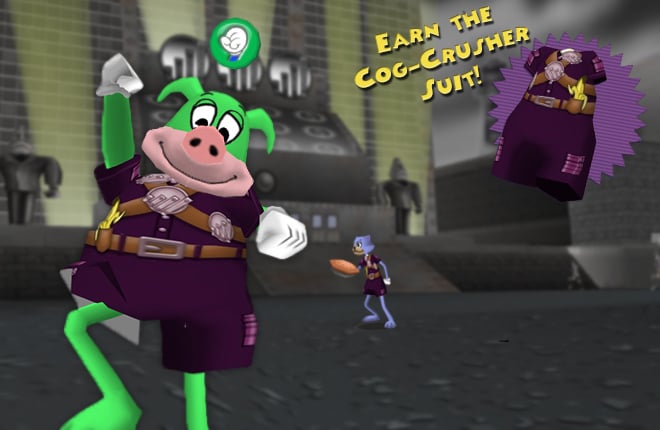 I know you may be used to our leader, Lord Lowden Clear, though he wasn't able to attend this briefing. He's always busy with whatever shenanigans he has to tend to, but in no way would he allow us members of the Toon Resistance to miss this. All of us over at the H.Q. just received word of your
Double Experience Weekend
event, and here's the deal:
We want in.
Throughout the whole weekend, us Resistance Rangers will be hosting Building-Busting marathons throughout Toontown, and we need
YOU
to help us. Starting tomorrow at 3PM Toontown Time, you can meet up with us and become an honorary Resistance Trainee by helping us to take down some of the toughest Cogs in Toontown. Toons who go above and beyond to show those Cogs who's boss will be awarded the
Cog-Buster Uniform
and
Resistance Salute
by one of our own Resistance Rangers!
Not too big on Laff or gags? Don't worry about it. There will be plenty of bigger toons there willing to help you out, and with the double experience you'll be up there in no time.
Here's the time schedule for our official events. If you can't make one, don't worry! Our Rangers will be all over Toontown even when the events aren't going on, and these times will repeat until Sunday at 9PM Toontown Time. (We aren't really Monday people...)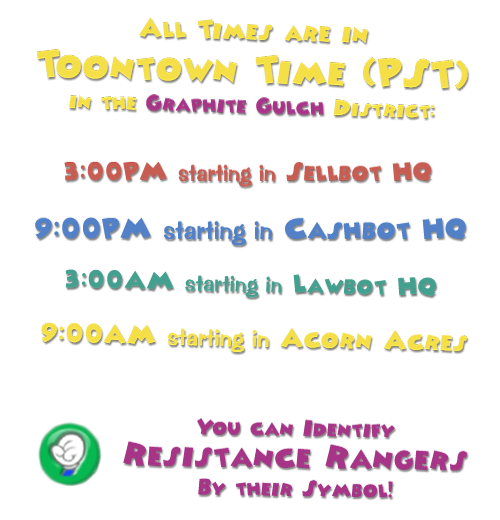 That's all from me. We're all pumped up to give our gags a good work out (And those Cogs a good busting!), so I hope to see you there.
Toons of the world,
UNITE!
Good ol' Gil Giggles
Toon Resistance Ranger
October 9, 2014 [ttr-beta-v1.5.12]
Maintenance:
• Turn on the experimental Laff corrector, a system used to prevent bugs and exploits relating to Laff points. Let us know if you have any oddities!

Bugfixes:
• Fix Toons that were missing a Laff point from fishing at the beginning of Beta.
• Fix Toons who received extra laff points via a now-patched racing exploit.

---
Comments
Sorry! Comments are closed.
---
---
---
---
---
---
---
---
---
---
---
---
---
---
---
---
---
---
---
---
---
---
---
---
---
---
---
---
---
---
---
---
---
---
---
---
---
---
---
---
---
---
---
---
---
---
---
---
---
---
---
---
---
---
---
---
---
---
---
---
---
---
---
---
---
---
---
---
---
---
---
---
---
---
---
---
---
---
---
---
---
---
---
---
---
---
---
---
Back To Top