More News
Additions to Acorn Acres!
Posted by Fisherman Nutty on October 3, 2014 at 3:30 PM
Yello!
You'll never guess what rabbit just landed himself a job at the nuttiest place in Toontown: Fisherman Nutty! (Hint: That's me!)
Oh, the nutty place I was talking about: That's Acorn Acres. The Toon Troopers thought it'd be nice to spruce the place up a little, ya know? Not with spruce trees though - no way, no how! I wouldn't dare let them ruin our acorn sanctuary with that vile hunk of wood.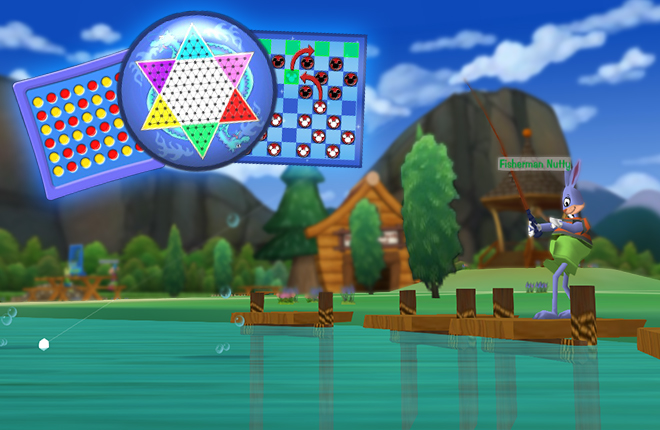 Right, fish. You guys like fish, right? Right! Turns out that river in Acorn Acres has a whole load of fish swimming through it, and now we've got out very own pond to catch 'em from! I've seen everything from Grizzly Bear Acudas to Strawberry PB&J Fish come from that pond, and I'd bet there are even more species that will migrate there if we keep offering them those tasty Jellybeans to eat!
Uh-huh. There's also something here about the
ToonFest Picnic Games being brought into Acorn Acres
-- but that's just boring. It's all about the fishing in my book.
Say, since I seem to be the keeper around here now, what other things do you think we can use to
spruce
oak up Acorn Acres?
October 3, 2014 [ttr-beta-v1.5.9]
Maintenance:
• Engine update! We've fixed a few bugs and improved performance further.

Bugfixes:
• Fix mismatched textures for Halloween clothing
• Fix an occasional crash when clicking on the Cattlelog button
• Tutorial Tom's chat bubble is no longer cut out of the screen in the Toontorial
• Tutorial Tom's legs are no longer missing after the Flunky battle
• Toons can no longer take over Shep Ahoy's shop with a Cog Building summons (ToonTask buildings aren't supposed to be able to be taken over by Toons!)

Tweaks:
• Swap out a few Cattlelog SpeedChat phrases which are no longer required to be purchased

Features:
• Add a fishing pond to Acorn Acres, watched over by Fisherman Nutty.
• By popular demand, bring back the ToonFest game tables! They're scattered through Acorn Acres.

---
Comments
Sorry! Comments are closed.
---
---
---
---
---
---
---
---
---
---
---
---
---
---
---
---
---
---
---
---
---
---
---
---
---
---
---
---
---
---
---
---
---
---
---
---
---
---
---
---
---
---
---
---
---
---
---
---
---
---
---
---
---
---
---
---
---
---
---
---
---
---
---
---
---
---
---
---
---
---
---
---
---
---
---
---
---
---
---
---
---
---
---
---
---
---
---
---
Back To Top