More News
Not with Points, but Experience
Posted by Lil Oldman on October 6, 2014 at 2:00 PM
Hello. I do think that this is my first time imposing a greeting upon a few of you, so some would say that an introduction would be in order. However, I need no introductions. I will give you one anyway: I am The Blizzard Wizard. Bah, let's get on with this.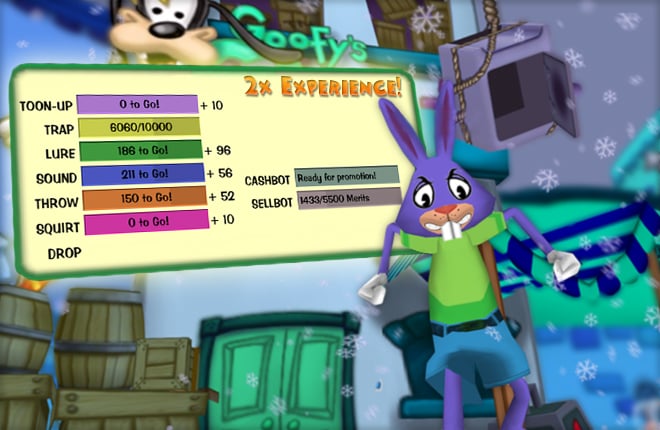 The Toon Council is a smart band of Toons - perhaps even as smart as I. Though I do not plan to bother with the atrocities of toonocracy, I am simply a messenger. I do think that the Toon Council has been into my Lumpy Cheese, as they've gone mad with the announcement I have been sent to announce.
Back in my day, Toons would train 36 hours a day, 9 days a week, 14 months per year to exceed our gag limits. Even now, when I sit old and maxed, I still travel the cold streets of The Brrrgh to train my gags and discover more. Maybe only during Mr. Hollywood invasions. They have excellent caviar.
Nonetheless, I am now announcing the reason I have been sent to announce in which the announcement is
Double Experience Weekend
from Friday to Monday. Go to the streets my children, (Do not think you are actually mine. I am merely a polite rabbit.) and train the gags you have been given. The experience returned will be twice as much, and quadrupled over the invasions.
What's that, toad? Ah yes.
It is time to feast. Remember: You do not truly earn a gag with points, but with experience. Do not ask me what this means. I do not know.
---
Comments
Sorry! Comments are closed.
---
---
---
---
---
---
---
---
---
---
---
---
---
---
---
---
---
---
---
---
---
---
---
---
---
---
---
---
---
---
---
---
---
---
---
---
---
---
---
---
---
---
---
---
---
---
---
---
---
---
---
---
---
---
---
---
---
---
---
---
---
---
---
---
---
---
---
---
---
---
---
---
---
---
---
---
---
---
---
---
---
Back To Top