More News
ToonFest: That's All, Folks!
Posted by Flippy on September 27, 2014 at 2:00 PM
Boy, does time fly! It's your Toon Council Presidential President, Flippy, here. (Can't forget about my new pet Fluffy, either!)
It's been just a little over a week since ToonFest began, and it's finally about time to wrap things up. The Troopers are taking down the banners, Alec is deflating the balloon (He's almost a bit
too
terrific about doing that.), Melville is taking his last bucket of fish to the Pet Shop, and Fluffy and I are on our way home.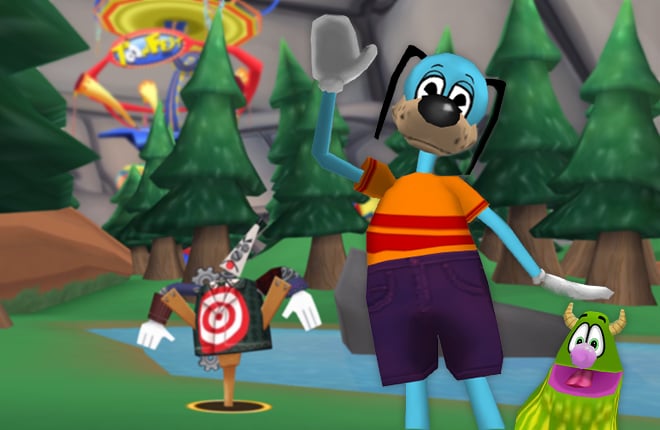 The last burst of the Finale Fireworks are launching as we speak, so if you're able to, you may be able to hop on and get one last look at ToonFest before we finish taking down the decor! Once it's gone, it'll be gone until next year with the launch of the next ToonFest.
Now that the festivities are coming to a close, I'd love to hear: What was your favorite part of ToonFest? The fishing? The games? What do you want to see to make it even better next year? And what do you want us here at the Toon Council to do next? We're always looking for fun things to do around town, and we have a whole bunch of them coming up soon.
We're going to be taking some time to Toon-Up a few things around town, so you'll have plenty of time to train your gags and Laff in the meantime. Be on the lookout, though: With the opening of Toontown, it's finally time to start cranking out the new content and fun things to do for the future. Stay TOONed, there's going to be a lot more on that coming soon!
Until next time... Toons of the world, UNITE!
-- Flippy and Fluffy
September 28, 2014 [ttr-beta-v1.5.8]
Bugfixes:
• Fix a bug where new Toons would get stuck if they teleported out of Toontown Central before finishing the Trolley task.

Tweaks:
• Allow teleport access to Chip and Dale's Acorn Acres.

Features:
• Close up ToonFest until next time. See you next year!

---
Comments
Sorry! Comments are closed.
---
---
---
---
---
---
---
---
---
---
---
---
---
---
---
---
---
---
---
---
---
---
---
---
---
---
---
---
---
---
---
---
---
---
---
---
---
---
---
---
---
---
---
---
---
---
---
---
---
---
---
---
---
---
---
---
---
---
---
---
---
---
---
---
---
---
---
---
---
---
---
---
---
---
---
---
---
---
---
---
---
---
---
---
---
Back To Top