More News
Spooktown's Tricks and Treats
Posted by Sir Max on October 28, 2016 at 2:00 PM
Ah, what a wonderful week! Just take a moment to step outside and smell the dead flowers, swarming bats, and observe that truly beautiful gloom that's covering the whole town. It's that time of year again: Time for the
Spooktown Curse
!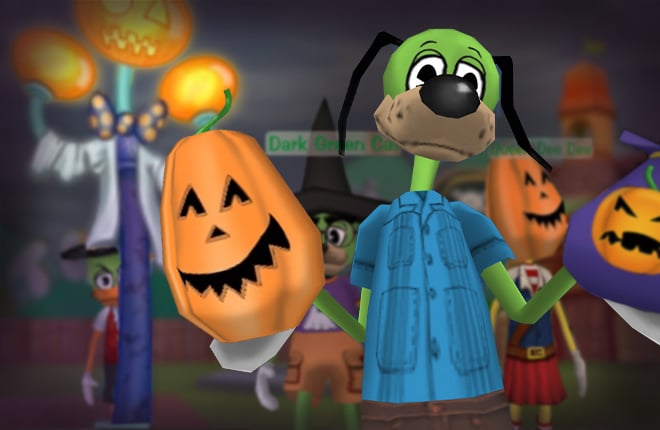 I've decided that this year, instead of being fearful of the scares and spooks that I
may or may not
have brought upon us those many years ago, it's best just to embrace it. It's just like what they always say: "If you can't beat the curse, give up and give in to your new lifestyle!" I mean, they probably say that. I think I read it in a magazine once. Might be paraphrasing.
Let me give you a rundown of what this curse actually entails:
As if our decorations weren't spooky enough, the sky has gone into full gloom from the curse. (I say we just pretend it's part of the decorations.)
This funny wizard guy named Jack O' Kazam has spread mysterious bags all around Toontown. Something about jellybeans and potential of some sort of trick that'll affect your friends too. The risk is worth it for some extra beans, right?
Every Toon who hits all of the Toontown Trick or Treat hot spots listed in our riddle will be cursed with a very stylish Pumpkin Head!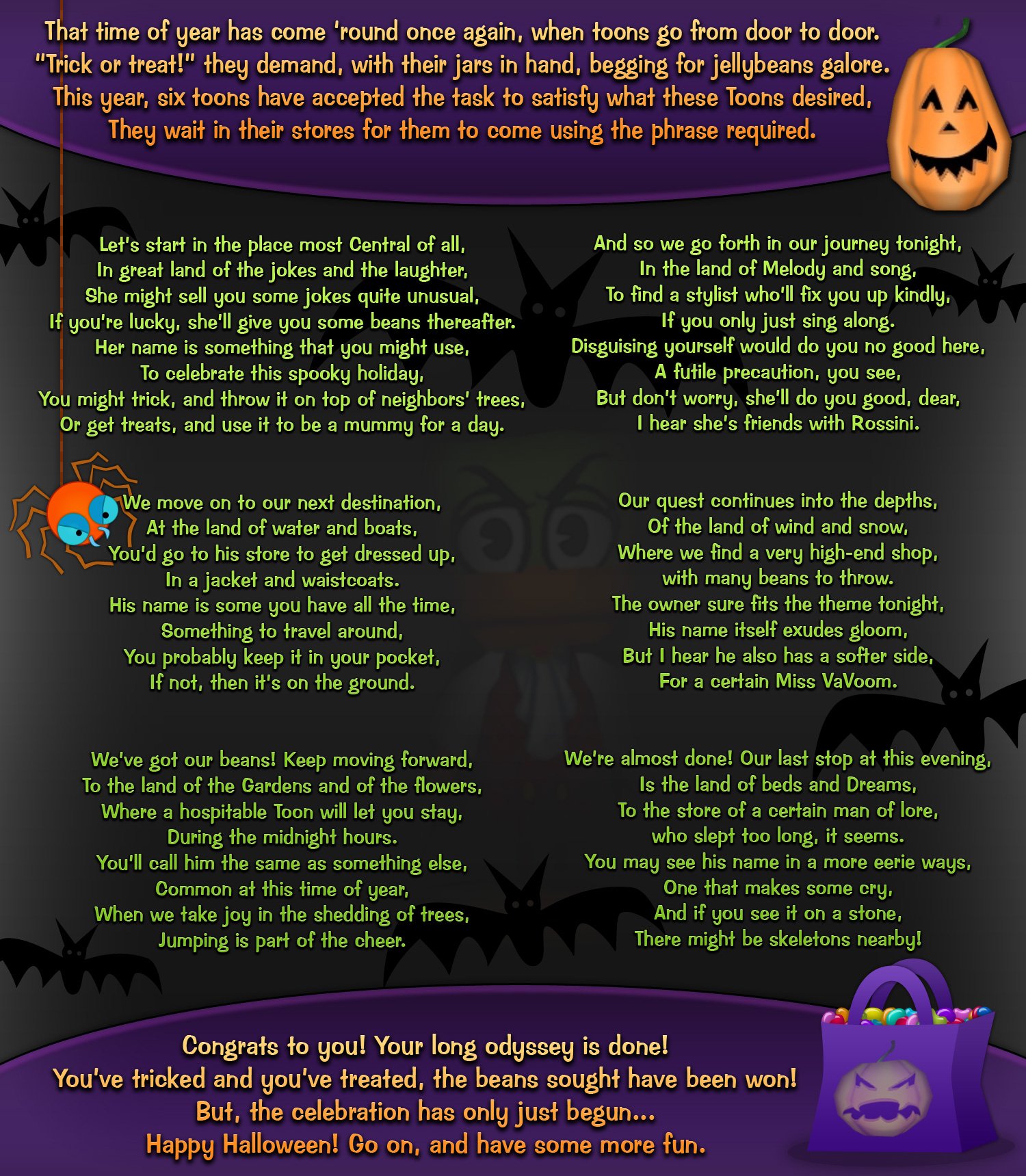 See? Spooky stuff can be fun. It's all about what you make of it! I bet that Jack O' Kazam guy isn't even a real wizard and has just been duping us year after year. My money says he's a weatherman. Besides, no one has even seen him around this year.
I bet that means he's calling off the curse for next year. I mean, it's not like he's going into hiding so he can cook up something even worse for the future...
Right?
October 28, 2016 [ttr-beta-v1.13.0 (patch)]
Features:
• Halloween is upon us! The Spooktown Curse has returned, giving Toons who get treats a little trick as well until November 1st.

• Spooky Bean Bags are scattered throughout the town. Pick one up to get a spooky spell, but beware -- the results are not always quite as sweet as candy!

Tweaks:
• Macs now display a warning about the audio bug. A fix for this crash is in the works!

Bugfixes:
• ToonFest Fireworks now spawn correctly.

---
Comments
Sorry! Comments are closed.
---
---
---
---
---
---
---
---
---
---
---
---
---
---
---
---
---
---
---
---
---
---
---
---
---
---
---
---
---
---
---
---
---
---
---
---
---
---
---
---
---
---
Back To Top