More News
ToonFest: We're Not Done Yet!
Posted by Riggy Marole on October 22, 2016 at 2:00 PM
Boy o' boy, is it the 22nd already? We ain't even got
half
of the stuff to ya's! Oof, I knew I should have hired my own contractors instead of relying on those Toon Troopers. "Safety Inspections" are only a recommendation, I keep telling 'em!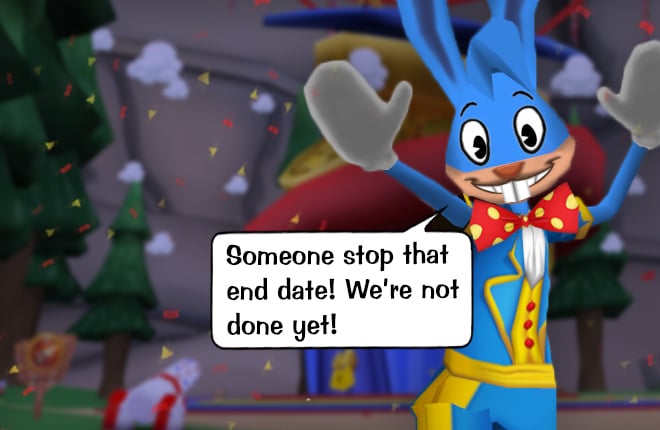 Anyhoo, we got ourselves a problem if these events aren't out yet. I certainly didn't expect those elves to run into so many issues! So here's the plan, folks: I think it's one you'll enjoy.
To apologimize for the dastardly delays of deese little delights, I'm calling off any end date for ToonFest. That's right -- this party is officially
unstoppable
. We're going to get every single one of these planned activities out to ya, if my name ain't Rigmund Q. Marole!
ToonFest still has
new items
,
new activities
, and of course
ME
left for the pot of features, and the event won't be closing until a little ways after all of those features are out in the wild open!
Apologies once again for the delays - let me tell you, this is the
last
time I get any quality control checking on my attractions
HAH!
I've got too many ToonFest tokens for this malarkey. Keep your ears perked up for news on the remaining ToonFest releases and the upcoming
Spooktown Halloween Celebration
!
---
Comments
Sorry! Comments are closed.
---
---
---
---
---
---
---
---
---
---
---
---
---
---
---
---
---
---
---
---
---
---
---
---
---
---
---
---
---
---
---
---
---
---
---
---
---
---
---
---
---
---
---
---
---
---
---
---
---
---
---
---
---
---
---
---
---
---
---
---
---
---
---
---
---
---
---
---
---
---
---
---
---
---
---
---
---
---
---
---
---
---
---
---
---
---
---
---
---
---
Back To Top