More News
ToonFest: Presenting Pie Purchases!
Posted by Flippy on October 5, 2016 at 11:00 AM
Flippy here, the
President of Toontown's Toon Council
. I already saw a lot of you stop by ToonFest, and I'm seeing a lot more come through now that some of the initial issues have been itched away!
Some of you may have noticed that I'm not baking the pies anymore, though. My pal, Riggy Marole, has got a brand new feature for you:
Pie Purchases
!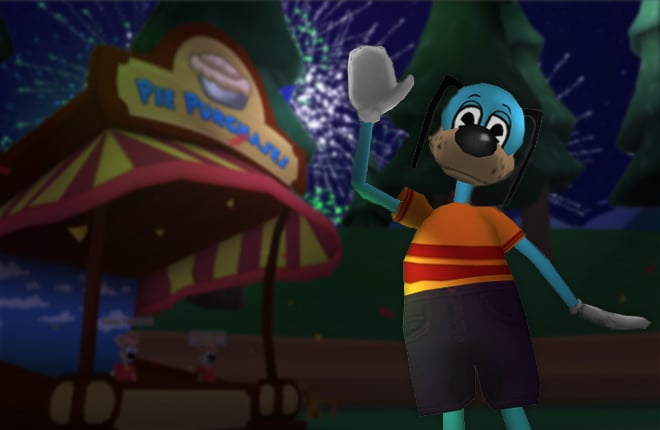 Let me tell you, it was a hard decision to give up my position as pie provisioner of ToonFest. After all, I've been there with my pie stand for the past two years! With
Fluffy's disappearance
, though, I decided that I should take the time to be out looking for him.
Luckily, Riggy Marole has placed a new booth in ToonFest with some Token Takers to run the show! These pies aren't as free, but they've got a lot more freedom. With the extra tokens, these Token Takers have managed to bake up a bunch of cupcakes, slices, and even wedding cakes to sell for your pie pleasures!
That's not all, though. Just like years past, the
ToonFest Fireworks Extravaganza
is taking the stage! Every three hours when ToonFest grows dark, you'll see fireworks set off into the sky all across Toontown. There's a full schedule listed below.
Daily Fireworks Schedule


All Times are in Toontown Time (PST)

| | |
| --- | --- |
| 12:00 AM | 12:00 PM |
| 3:00 AM | 3:00 PM |
| 6:00 AM | 6:00 PM |
| 9:00 AM | 9:00 PM |
This show is one you won't want to miss for the mesmerizing music and vibrant visuals. Trust me!
I'm off to keep looking for Fluffy, but thanks for stopping by and seeing me while I was at ToonFest. I'll certainly be soon to return. Happy ToonFest, Toons!
October 4, 2016 [ttr-beta-v1.13.0 (patch)]
Maintenance:
• Server stability improvements.

Bugfixes:
• Solve a major server bug resulting in failure of friend lists, estates, and general login for some Toons.

Features:
• The Pie Purchase booth has made a debut in ToonFest! Flippy and his pie stand have packed up and left for a while.

Known Bugs:
• Some newly created Toons may be unable to visit their estate. A fix for this is in the works! We recommend emailing [email protected] with your username and names of broken Toons so we can collect more information on the problem.

---
Comments
Sorry! Comments are closed.
---
---
---
---
---
---
---
---
---
---
---
---
---
---
---
---
---
---
---
---
---
---
---
---
---
---
---
---
---
---
---
---
---
---
---
---
Back To Top