More News
Say "Ta-ta" to ToonFest!
Posted by Riggy Marole on October 20, 2015 at 2:00 PM
That's all, folks! It's been a great month, and I hate to say it, but its high time that ToonFest closes its doors for the year. There's just a little bit of cleanup left for the "elves" to do (They still hate that name, hah!), and then I'll retire to my little rabbit hole until next time.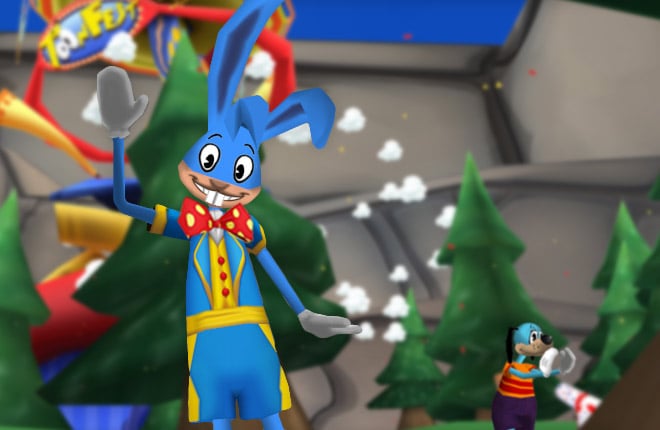 ToonFest gained a whole lot to make it better than years before, and you can bet your britches that it will only get better in the future. They've already got new ideas, ya know! As for those other accessories, soon you'll --
...What's that? Flippy, you're joshin' me! I haven't seen him, no, he's been right there with you. What do you mean he's gone?
Err- Gonna have to cut this post short, pals. Minor emergency here on the ToonFest grounds! I hope you enjoyed ToonFest, and I'll be seeing you again soon enough. Farewell for now!
October 20, 2015 [ttr-beta-v1.10.5]
Features:
• ToonFest is gone for this year. We hope you had fun!

Bugfixes:
• Fix a few minor issues with the new "ToonFest Blue" color.
• Fix various server-side issues and code cleanup.

---
Comments
Sorry! Comments are closed.
---
---
---
---
---
---
---
---
---
---
---
---
---
---
---
---
---
---
---
---
---
---
---
---
---
---
---
---
---
---
---
---
---
---
---
---
---
---
---
---
---
---
---
---
---
---
---
---
---
---
---
---
---
---
---
---
---
---
---
---
---
---
---
---
---
---
---
---
---
---
---
---
---
---
---
---
---
---
---
---
---
---
---
---
---
---
---
---
---
---
---
---
---
---
---
---
---
---
---
---
---
---
---
---
---
---
---
---
---
---
---
---
---
---
---
---
---
---
---
---
---
---
---
---
---
---
---
---
---
---
---
---
---
---
---
Back To Top