More News
Beware the Foreman's Forewarning!
Posted by Resistance Ranger Rocky on November 16, 2015 at 9:00 AM
Attention all Toons!
This is Resistance Ranger Rocky from the Toon Resistance! I ran over to the Toon HQ as quick as I could to report a strange memo that was just intercepted straight from the Factory Foreman. Have a look for yourself.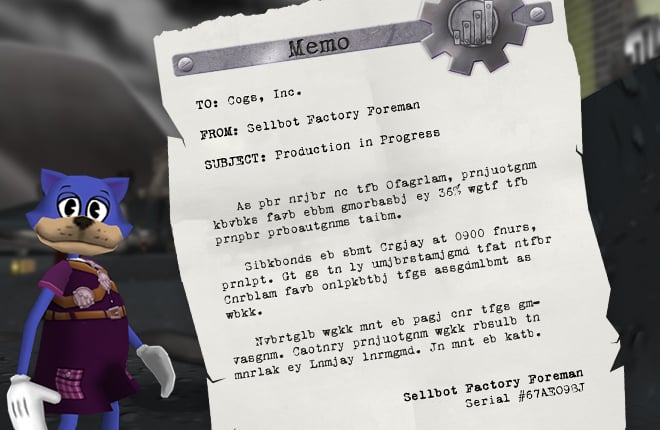 We don't know what it means, but it sure can't be anything good. Cogs have only used encryption for important plans in the past.
Resistance Rangers will be on the prowl for any new news that may come about, but in the meantime, we recommend to grab some gags and prepare for an attack. The Cogs have been idle for far too long!
---
Comments
Sorry! Comments are closed.
---
---
---
---
---
---
---
---
---
---
---
---
---
---
---
---
---
---
---
---
---
---
---
---
---
---
---
---
---
---
---
---
---
---
---
---
---
---
---
---
---
---
---
---
---
---
---
---
---
---
---
---
---
---
---
---
---
---
---
---
---
---
---
---
---
---
---
---
---
---
---
---
---
---
---
---
---
---
---
---
---
---
---
---
---
---
---
---
---
---
---
---
---
---
---
---
---
---
---
---
---
---
---
---
---
---
---
---
---
---
---
---
---
---
---
---
---
---
---
---
---
---
---
---
---
---
---
---
---
---
---
---
---
---
---
---
---
---
---
---
---
---
---
---
---
---
---
---
---
---
---
---
---
---
---
---
---
---
---
---
---
---
---
---
---
---
---
---
---
---
---
---
---
---
---
---
---
---
---
---
---
---
---
Back To Top