More News
Let the Sales Begin
Posted by Sir Max on November 27, 2015 at 12:00 AM
AND THEY'RE OFF!
The clock just struck midnight, and the Black Friday sales have officially begun! In fact, I even took a couple of the Jellybeans from our Thanksgiving Feast and scooped them straight into my jellybean jar. Crazy? No - inventive!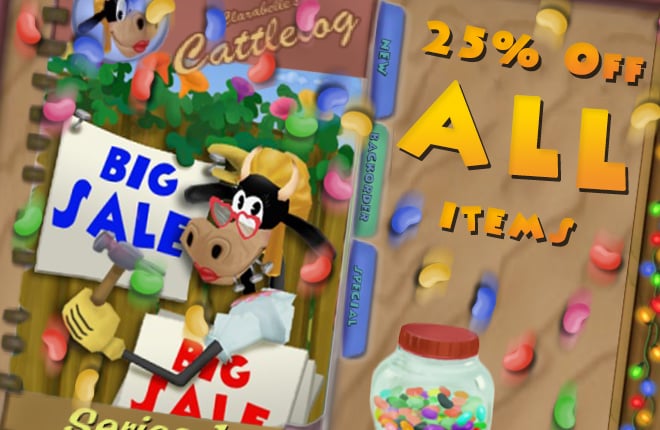 Clarabelle Cow is at it again, providing whopping deals on all items in her Cattlelog. All Cattlelogs delivered before
December 3rd at 11:59PM Toontown Time
will get a special issue with a week-long sale of 25% off every item.
That means whenever you get your next issue, whether it be today or next Thursday, you'll be able to get your gloves on those sweet deals for an entire week. There's no better time of the year to go on a shopping spree!
I'd love to stay and chat, but I'm currently in a quite intense wrestling match with another shopper over a platinum set of jewelry. I don't really have anyone to give it to - it's just a
REALLY
good deal! Remember: Aggressive shopping is smart shopping!
---
Comments
Sorry! Comments are closed.
---
---
---
---
---
---
---
---
---
---
---
---
---
---
---
---
---
---
---
---
---
---
---
---
---
---
---
---
---
---
---
---
---
---
---
---
---
---
---
---
---
---
---
---
---
---
---
---
---
---
---
---
---
---
---
---
---
---
---
---
---
---
---
---
---
---
---
---
---
---
---
---
---
---
---
---
---
---
---
---
---
---
---
---
---
---
---
---
---
---
---
---
---
---
---
---
---
---
---
---
---
---
---
---
---
---
---
---
---
---
---
---
---
---
---
---
---
---
---
---
---
---
---
---
---
---
Back To Top