More News
Surlee's Theory of Golfitivity
Posted by Doctor Surlee on December 6, 2015 at 2:15 PM
Greetings. For those who don't know me, I'm Doctor Surlee of Loony Labs. You may have heard some news from my co-worker,
Professor Prepostera
, a few days back. Today I'm here to bring you another exciting discovery from the labs - a proposed solution to an activity us Toons like to call
Minigolf
.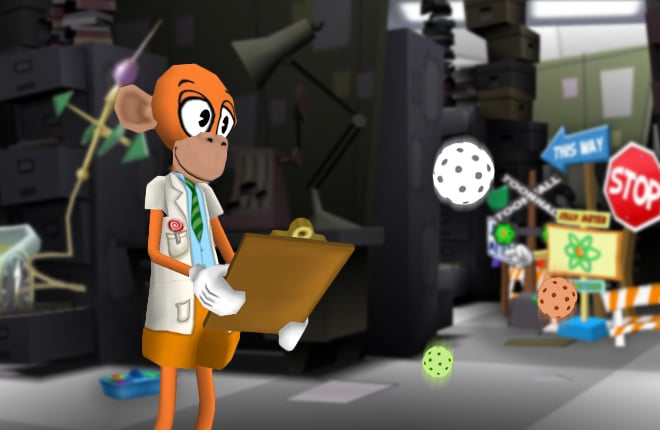 Ever since the
April Toons Gravity Mishap
, and even sometime before, I've been dedicating my work to studying the silly surge anomalies in Toontown. One that peaked my interest was an issue with
Golf Balls disobeying the laws of physics.
It's taken me months to find the cause, but with the data we received from the quantum silly gravitations combined with a dose of reorganizing the punny particle structure of the golf ball's
mole
cular field (Luckily some of those moles moved from our golf courses over to the Bossbot's) -- I was finally able to come up with my own Theory of Golfitivity to put an end to the physics-breaking calamities!
Oh. I lost you. Let me put it simply: The Golf Balls are ready to go, and after a bit of preparation, they will be ready for all to use.
Chip and Dale's Minigolf will be open to all of Toontown later this week!
I'm sure one of the Toon Troopers will have plenty to tell you about the courses upon their release. Check up in the next few days - the golf shipments are almost over with.
Now, back to my experiments. Since that I've solved that dilemma, it's time to finalize the work on another experiment of mine relating to Silly Surges...
---
Comments
Sorry! Comments are closed.
---
---
---
---
---
---
---
---
---
---
---
---
---
---
---
---
---
---
---
---
---
---
---
---
---
---
---
---
---
---
---
---
---
---
---
---
---
---
---
---
---
---
---
---
---
---
---
---
---
---
---
---
---
---
---
---
---
---
---
---
---
---
---
---
---
---
---
---
---
---
---
---
---
---
---
---
---
---
---
---
---
---
---
---
---
---
---
---
---
---
---
---
---
---
---
---
---
---
---
---
---
---
---
---
---
---
---
---
---
---
---
---
---
---
---
---
---
---
---
---
---
---
---
---
---
---
---
---
---
---
---
---
---
---
---
---
---
---
---
---
---
---
---
---
---
---
Back To Top