More News
Be Thoughtful on Thanksgiving!
Posted by Sir Max on November 26, 2015 at 2:00 PM
The Thanksgiving Day Feast! It's the most anticipated food-endorsed holiday of the year, right next to Christmas and Cinco de Mayo. (I'll never understand why they have a holiday dedicated to mayonnaise.)
Between your twenty-course meals and exquisite delicacies of dessert, however, it's important to take some time to be thoughtful.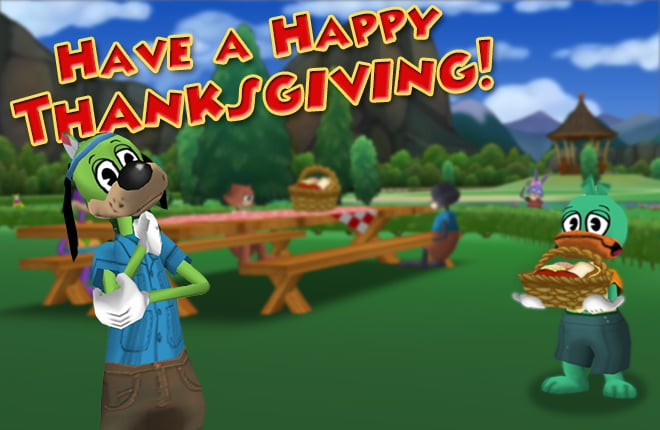 Every year here at Toontown, we like to take the time to send a big "Thank You!" to Disney Online for their involvement with bringing the Tooniverse to life for the many years that they ran it. We're only here to continue their vision -- for free -- due to the awesome world that they created!
Sometimes we seem to forget the roots where Toontown started, and its important to keep those roots in your thoughts - especially on Thanksgiving. We're asking you to join us in our efforts to send thanks to everyone who has ever been involved with Toontown, whether it be through sending them a short tweet, email, or just a comment here on our blog!
It's the little things that go a long way, and who knows, your small "thank you" may just make someone's day. There's a lot of people who dedicated a large chunk of their lives to create this world, after all.
Happy Thanksgiving from everyone on the Toon Council!
---
Comments
Sorry! Comments are closed.
---
---
---
---
---
---
---
---
---
---
---
---
---
---
---
---
---
---
---
---
---
---
---
---
---
---
---
---
---
---
---
---
---
---
---
---
---
---
---
---
---
---
---
---
---
---
---
---
---
---
---
---
---
---
---
---
---
---
---
---
---
---
---
---
---
---
---
---
---
---
---
---
---
---
---
---
---
---
---
---
---
---
---
---
---
---
---
---
---
---
---
---
---
---
---
---
---
---
---
---
---
---
---
---
---
---
---
---
---
---
---
---
---
---
---
---
---
---
---
---
---
---
---
---
---
---
---
---
---
---
---
---
---
---
---
---
---
---
---
---
---
---
---
---
---
---
---
---
---
---
---
---
---
---
---
---
---
---
---
---
---
---
---
---
---
---
---
---
---
---
---
---
---
---
---
---
---
---
---
---
---
---
---
---
---
---
---
---
---
---
---
---
---
---
---
---
---
---
---
---
---
Back To Top