More News
When Gravity Falls
Posted by Doctor Surlee on April 5, 2015 at 2:00 PM
Without any doubt, any Toon who has stepped (or rather, levitated) outside of their door this week has noticed the distinguished lack of sanity here in Toontown - and even more so than usual. Gravity is gone, Toons are even sillier looking than usual, and the
Silly Surges
are going through the roof! Gah, and there's one Toon who I know is causing it all:
Where in the name of Emmett Brown is Sir Max
?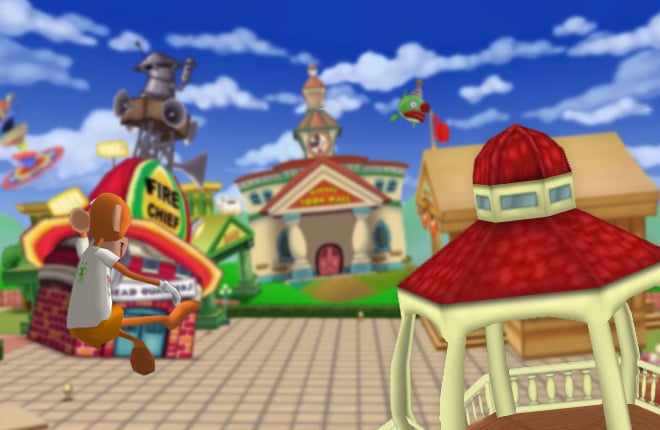 As any Toon who was with us before Doomsday last year will remember, this isn't Sir Max's
first time
messing with the quantum silliness of Toontown. I don't even know how he managed to get his gloves on that device again, but it seems he has taken it to entirely new -- dare I say it --
heights.
You see, silliness is a factor here in Toontown that keeps the Tooniverse in balance. It's what keeps the town colorful, keeps Toons laughing, and even animates inanimate objects when things get crazy. When things get
too
crazy, however, things fall out of balance. My readings are detecting
severe gravitational mishaps
in all areas of Toontown, especially Toontown Central and BBQHQ - the two wackiest areas in Toontown right now.
I knew that Sir Max was a fan of the show, and we all know that he loves his references, but this is amounting to sheer insanity. Flippy's Doodle, Fluffy, theorized
"The ridiculous rises in the atmosphere are carrying matter naturally upwards with it,"
to which he was told that he is a Doodle and his observations are not grounds for truth in the scientific community considering that
HE'S NOT SUPPOSED TO TALK.
Grab onto something and hold tight - you certainly will not want to find yourself being ripped up with one of those buildings during today's Easter Egg hunts. By Jiminy, here comes another Silly Surge!
April 5, 2015 [ttr-beta-v1.8.9]
Mishaps:
• Severe gravitational mishaps have been spotted in Toontown Central, Barbecue HQ, and other places around Toontown!

Tweaks:
• Randomized Toon Effects now only affect Toons when they are in the Playground.

---
Comments
Sorry! Comments are closed.
---
---
---
---
---
---
---
---
---
---
---
---
---
---
---
---
---
---
---
---
---
---
---
---
---
---
---
---
---
---
---
---
---
---
---
---
---
---
---
---
---
---
---
---
---
---
---
---
---
---
---
---
---
---
---
---
---
---
---
---
---
---
---
---
---
Back To Top