More News
ToonFest comes to OMGCon 2015!
Posted by The Toontown Team on April 18, 2015 at 12:00 PM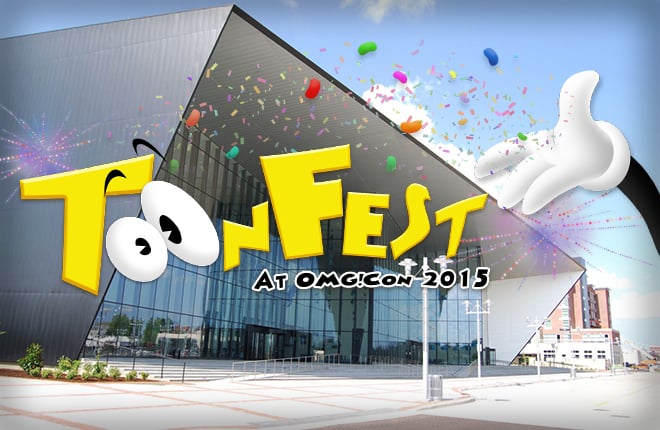 In celebration of Toontown's 12th anniversary on June 11th, 2015, Toontown Rewritten will be hosting the first ever Real-world, Pie-splattered, Ever-changing, Toon-themed event on this side of the Tooniverse since 2007 at
OMG!Con 2015
in
Owensboro, Kentucky
!
Here's a bucket full of information to take in - try to contain your excitement!

Toontown Rewritten will be one of the main exhibitors at OMG!Con 2015, which lasts from Friday to Sunday. (June 12-14)
Our main ToonFest event will be hosted at 11AM on Saturday, where we have been given one of the largest rooms in the hall for players just like YOU to meet the team, ask questions, pick up some free merchandise -- and even get some sneak peeks at future secrets!
Everyone who stops by our exhibit will receive a unique code for a special in-game item, and attendees of the main event on Saturday will get even more!
ToonFest 2015, the annual in-game celebration of Toontown Rewritten, will still be hosted on September 19, 2015. This event is a real-world celebration for Toontown's 12th anniversary.
The panel will be recorded and uploaded for those who are unable to attend the event - but you really won't want to miss it if you are able to be there in person!
OMG!Con is a big convention full of all sorts of things to do outside of Toontown Rewritten - you may come for us, but you'll want to stay for the day full of fun!
Tickets and hotels are selling out quick, so make sure to get your plan together quickly. We'd really be honored to have you attend! Our panel room will seat up to 250 people, and there is expected to be at least 2,000 attendees this year at the overall convention. Let's make it even bigger by showing them how us Toons have fun!
You can learn more about the convention and tickets at
OMG!Con's official website
. We encourage you to order online for a pre-registration discount
(Tell them that Toontown Rewritten sent you!)
, but tickets will also be available at the door. One ticket will get you access to Toontown Rewritten's panel along with all of the other events OMG!Con has to offer.
Toontown Rewritten receives no profits or revenue from this event -- we're just in it for the celebration of all things Toontown!
So what are you waiting for? Come by and hang out with us for a while - we promise we won't bite. There's plenty to do, and we're just as excited as all of you. Stay TOONed on our blog for more information as it becomes available, and we hope to see you at our first real world ToonFest!
---
Comments
Sorry! Comments are closed.
---
---
---
---
---
---
---
---
---
---
---
---
---
---
---
---
---
---
---
---
---
---
---
---
---
---
---
---
---
---
---
---
---
---
---
---
---
---
---
---
---
---
---
---
---
---
---
---
---
---
---
---
---
---
---
---
---
---
---
---
---
---
---
---
---
---
---
---
---
---
---
---
---
---
---
---
---
---
---
---
---
---
---
---
---
---
---
---
---
---
---
---
---
---
---
---
---
---
---
---
---
---
---
---
---
---
---
---
---
---
---
---
---
---
---
---
---
---
---
---
---
---
---
---
---
---
---
---
---
---
---
---
---
---
---
---
---
---
---
---
---
---
---
---
---
---
---
---
---
---
---
---
---
---
---
---
---
---
---
---
---
---
---
---
---
---
---
---
---
---
---
---
---
---
---
---
---
---
---
---
---
---
---
---
---
---
---
---
---
---
---
---
---
---
---
---
---
---
---
---
---
---
---
---
---
---
---
---
---
---
---
---
---
---
---
---
---
---
---
---
---
---
---
---
---
---
---
---
---
---
---
---
---
---
---
---
---
---
---
---
---
---
---
---
---
---
---
---
---
---
---
---
---
---
Back To Top