More News
The Biggest Prank of All
Posted by Sir Max on April 12, 2015 at 3:30 PM
HELLLLOOOOOO Toontown!
I've returned from my cruise, and
man
is sunburn painful. I didn't even know dogs could get sunburned! Boy though, did I have you guys fooled.
I'd bet my gloves that you were expecting some sort of grand April Toons Week prank like the one I pulled last year - but that was too predictable. Instead, I... What's that you say? There
was
some sort of grand April Toons Week prank?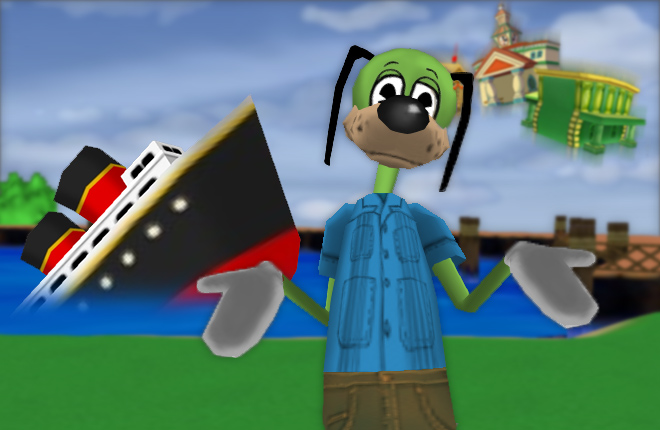 After reading through this week's fiasco, it seems that I've been placed on blame for the shenanigans caused this week, and have become the number one most wanted toon in fourteen districts. That's the most I've had since I
borrowed that Ice Rink!
Alas, however, as I cannot claim credit despite as much as I would like to. I've been soaking up the sun, and ironically been head to head with other chunks of ice over on the Toontanic Cruise Lines for spring break! (Which had quite the plummet towards the end of the trip -- I wouldn't recommend it.)
The folks over at Loony Labs seem to be just as surprised and as I am that I didn't pull the April Toons stunts of this year, and there's no way that I'm letting some amateur prankster reuse my tricks! But one question remains: If I didn't do it... Then who - or
what
- did?
April 11, 2015 [ttr-beta-v1.8.10]
Bugfixes:
• Fix a crash that occurred when many people enter a Cog HQ door at once
• Fix another type of door crash

Tweaks:
• Teleport access to a Cog HQ is now granted after earning a promotion from Level 12 to Level 13. If your suit is currently between Level 12 and 49, you will be granted teleport access after your next boss battle.
• At the request of many, all accessories can now be worn by all Toons!

Mysteries:
• The Mystery Tunnel has reappeared! Apparently BBQHQ ran out of sauce...

---
Comments
Sorry! Comments are closed.
---
---
---
---
---
---
---
---
---
---
---
---
---
---
---
---
---
---
---
---
---
---
---
---
---
---
---
---
---
---
---
---
---
---
---
---
---
---
---
---
---
---
---
---
---
---
---
---
---
---
---
---
---
---
---
---
---
---
---
---
---
---
---
---
---
---
---
Back To Top