More News
BBQHQ Has Been Found!
Posted by Flippy on April 1, 2015 at 2:00 PM
Today is the day, Toons, that many of us have been waiting for a long, long time for. I've heard all about the rumors of areas in Acorn Acres and the secrets that they hold, but I really never believed that one day those rumors would become a reality -- even with Team LHAAFBBHQ on the hunt.
I was taking my Doodle, Fluffy, for a walk through the golf zone when I stumbled upon the most astonishing sight I've seen in months: The rumored
BBQHQ has been discovered.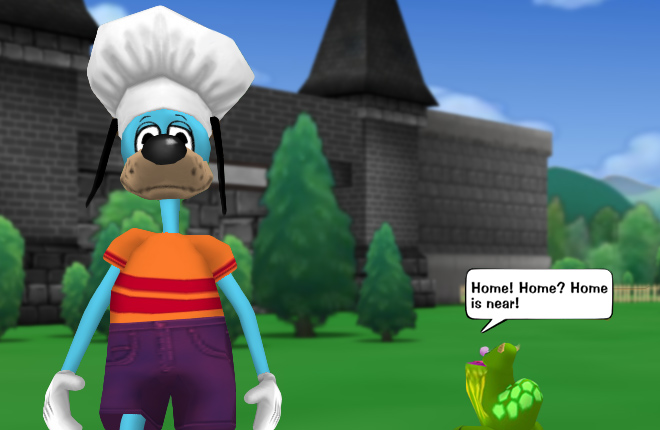 Puffs of pitch-black smoke were rising in the distance, and clearing past the branches uncovered a dark, charcoal-stained tunnel that led to the source of the ominous smoke. As much as I am astonished by it, the rumors that The Toon Council had heard were true: I had discovered
BBQHQ
.
The uncovered dark tunnel can be found nearby Chip and Dale's Minigolf, leading to an oddly familiar area where Toons can surely grill some of those evil Cogs.
The whereabouts of Team LHAAFBBHQ are unknown, but reports from the Toon Resistance have said that they may be being held in captivity by the
C.H.E.F.
-- who gave them an offer that they absolutely couldn't refuse. Tread lightly, Toons, or you too may find yourself unable to escape his banquet.
We encourage Toons everywhere to go to BBQHQ to take care of the Cogs found there, but we all must remember now more than ever: Toons of the World, Happy
April Toons Week
!
April 1, 2015 [ttr-beta-v1.8.8]
Features:
• Released BBQHQ and C.H.E.F. banquet.

---
Comments
Sorry! Comments are closed.
---
---
---
---
---
---
---
---
---
---
---
---
---
---
---
---
---
---
---
---
---
---
---
---
---
---
---
---
---
---
---
---
---
---
---
---
---
---
---
---
---
---
---
---
---
---
---
---
---
---
---
---
---
---
---
---
---
---
---
---
---
---
---
---
---
---
---
---
---
---
---
---
---
---
---
---
---
---
---
---
---
---
---
---
---
---
---
---
---
---
---
---
---
---
---
---
---
---
---
---
---
---
---
---
---
---
---
---
---
---
---
---
---
---
---
---
---
---
---
---
---
---
---
---
---
---
---
---
---
---
---
---
---
---
---
---
---
---
---
---
---
---
---
---
---
---
---
---
---
---
---
---
---
---
---
---
---
---
---
---
---
---
---
---
---
---
---
---
---
---
---
---
---
---
---
---
---
---
---
---
---
---
---
---
---
---
---
---
---
---
---
---
---
---
---
---
---
---
---
---
---
---
---
---
---
---
---
---
---
---
---
---
---
---
---
---
---
---
---
---
---
---
---
---
---
---
---
---
---
---
---
---
---
---
---
---
---
---
---
---
---
---
---
---
---
---
---
---
---
---
---
---
---
---
---
---
---
Back To Top