More News
Double Experience to the World!
Posted by Lord Lowden Clear on December 22, 2017 at 2:00 PM
On the eighth day of winter, Toontown gives to you:
Twice your battle experience,
Cheerful Christmas costumes,
White winter wonderlands,
AND A MEGAAAAAA COG INVASION!
(bum bum bum...)
Lots of caroling Snowtoons,
Brand new winter music,
Festive decorations,
And an update to make your holidays brand new!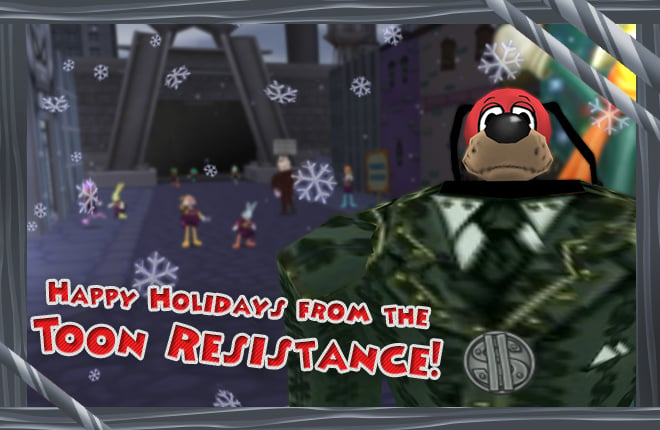 Happy Winter Holiday, to Toons one and all! Lord Lowden Clear of the Toon Resistance here. We've seen dastardly moves from the Cogs this year as Cold Callers take the streets in an attempt to consumerize Christmas, and I dare say they almost had us. Luckily, my Resistance Rangers swooped in!

The invasion was not without its Laff causalities - in fact, the Cogs are calling it a victory due to all of the sales they made. Who knew that cold Cogs could be full of so much Hot Air?
No matter! The Toon Resistance shall not let the Cogs have their day! From this moment, I am declaring Christmas to have come early with Double Battle Experience from now until December 25th at 11:59PM. More Cogs must be fought! More gags must be thrown! And more Christmas cheer must be spread! If they happen to sell you a gift along the way, use it to your advantage!
Use this time as training -- I have an Operation that I'm cooking up my sleeve for when the time is right. I'll see you on the streets. Until next time, keep them busting -- with laughter!
Lord Lowden Clear
Leader of the Toon Resistance
---
Comments
Sorry! Comments are closed.
---
---
---
---
---
---
---
---
---
---
---
---
---
---
---
---
---
---
---
---
---
---
---
---
---
---
---
---
---
Back To Top