More News
How the Toons Saved Christmas
Posted by Flippy on December 25, 2017 at 3:45 PM
On the eleventh day of winter, Toontown gives to you:
A Christmas down in history,
(bum bum bum...)
And an update to make your holidays brand new!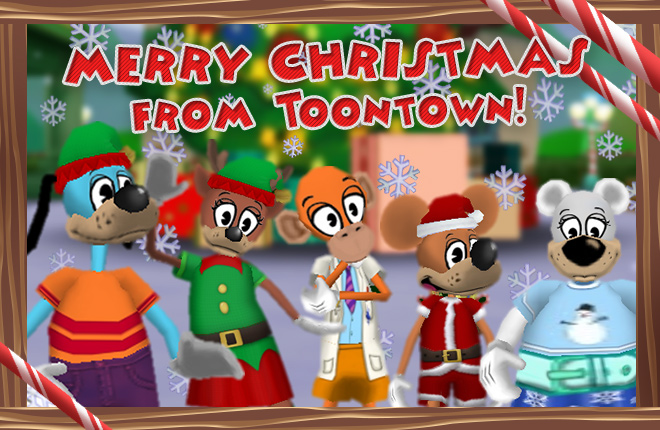 Toons of the world, Merry Christmas! This year's 12 Days of Winter have been an absolute flurry of surprises, and it's been an honor to play a part in them. These past couple days have been a tremendous triumph for the Toons of Toontown, as we've managed to lend our friend from the North Pole a humongous helping hand.
My laff meter was filled to the brim seeing all you Toons helping Holly tackle circumstances that looked so grim. I saw Toons of all sizes, shapes, and colors running around giving each other gifts, launching jellybeans like fireworks on New Year's Eve, and riding the trolley like there was no tomorrow! I was particularly proud of the rambunctious new reindeer who used their glowing noses to pierce the blizzard and help SantaToon navigate this gnarly weather.
Holly has reported to me that all presents have been delivered on time. SantaToon himself has said we will go down in history! No matter how you celebrate, today is a great day to take the joy you have and use it to brighten up the lives of others. Holly Daze is thankful for our help and has decided to stick around until December 30th to show her appreciation to every Toon who helped save Christmas. To honor our North Pole guest, all winter festivities -- with the exception of double experience and Polar Bears on Toontorial Street -- will end on December 30th as well!
I hope you all have a splendid Christmas filled with good cheer! We have one more day of the 12 Days of Winter, and it's a real tree topper! Stay TOONed!
---
Comments
Sorry! Comments are closed.
---
---
---
---
---
---
---
---
---
---
---
---
---
---
---
---
---
---
---
---
---
Back To Top