More News
O Snowball Fight!
Posted by Flippy on December 26, 2017 at 2:00 PM
On the twelfth day of winter, Toontown gives to you:
The Great Snowball Fight,
A Christmas down in history,
Calm before a storm?,
Red-nosed reindeer Toons,
Twice your battle experience,
Cheerful Christmas costumes,
White winter wonderlands,
AND A MEGAAAAAA COG INVASION!
(bum bum bum...)
Lots of caroling Snowtoons,
Brand new winter music,
Festive decorations,
And an update to make your holidays brand new!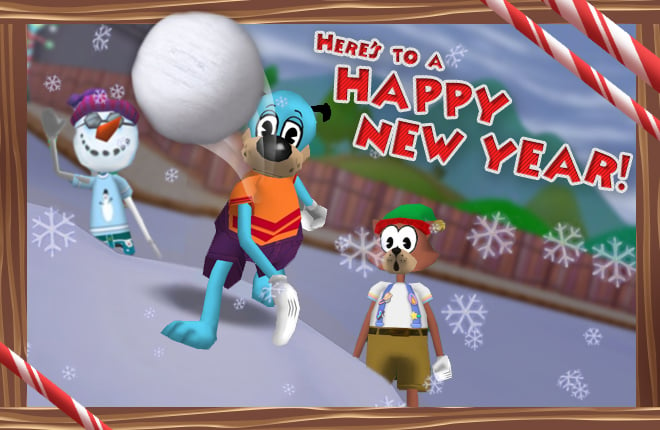 Heya Toons, it's Flippy again! My role as President of the Toon Council keeps me busy, so it's not too often that I get to write two blog posts in a row. Today is a special day, however. Although some may consider shopping to be the most frantic part of the season, Toontown's got a frantic holiday tradition of its own: Getting together with your friends and family on the day after Christmas to have the BIGGEST Snowball Fight our town has ever seen!
Slappy Quackintosh, a Duck who was both my foe in the Toon Council Presidential Election and one of my greatest friends, started out with this tradition many years ago. All of these years later, we're still holding these amazing snowball fights in honor of his work!
We've been trying to track down Slappy ever since his disappearance, as the rightful President of the Toon Council. We've gone in circles trying to find that duck, and we keep coming back right where we started. The good news is that we've recently been looking into some promising leads! The Cogs must have him somewhere in their corporate empire, along with Team LHAAFBBHQ. When the time is right, we're going to find him.
Our song is finally complete, and at long last Toontown's Twelve Days of Winter is coming to a close! Over the next few days -- until December 30th at 11:59 PM Toontown Time (PST) -- you'll be able to enjoy ALL of the wonderful gifts that have been given over the past twelve days.
In the spirit of Slappy, it's my great honor to say these final words to wrap up this spectacular year of Toontown's 12 Days of Winter:
Let the Great Toontown Snowball Fight COMMENCE!
---
Comments
Sorry! Comments are closed.
---
---
---
---
---
---
---
---
---
---
---
---
---
---
---
---
---
---
---
---
---
---
---
---
---
---
---
---
---
---
---
---
---
---
---
---
---
---
Back To Top