More News
Four Years of Toontown Rewritten | ToonFest 2017
Posted by The Toontown Team on September 19, 2017 at 12:00 PM
Happy Birthday, Toontown Rewritten!
Today marks four years since the closure of Disney's Toontown Online, and the subsequent announcement of Toontown Rewritten. We take this time every year to reflect on how far we've come, what we've achieved, and what's to come...
Since last year, Toontown Rewritten has achieved more than ever. We kicked off the year by releasing the long-awaited
Doodle update
, hosted the first ever
ToonFest at ReplayFX
, launched
a new website
, brought two brand
new Toon Species
into Toontown, announced our departure from Beta with our largest update yet, the
v2.0.0 Update
-- and
the year isn't even over yet!
This has been undoubtedly our most exciting year of Toontown Rewritten, and now that we've accomplished so much -- it's time to celebrate! We invite you to jump into Toontown and party with us in the biggest celebration in the Tooniverse.
Welcome to ToonFest 2017!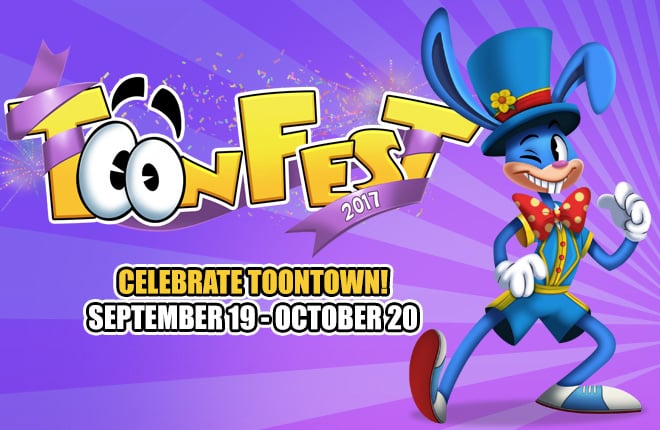 Our in-game ToonFest event is a limited time celebration that only comes around once per year. You can enter a special area in Chip and Dale's Acorn Acres to play games, earn prizes, and hang out with friends until
October 20th
. ToonFest isn't all about the fun and games, though. It's a time to reflect on how lucky we are to still be playing Toontown, and think about what the future of the game may hold!
Here's just a few of the things to expect during this year's event:
---
Meet Riggy Marole
It's hard not to love Riggy Marole, the absolutely
insane
host of ToonFest who keeps things lively throughout the event. You can expect to see a blog post from him soon! As he mentioned in last year's
"Ask Toontown" segment
, he'll be strolling around ToonFest at points during the event so that you'll be able to meet him!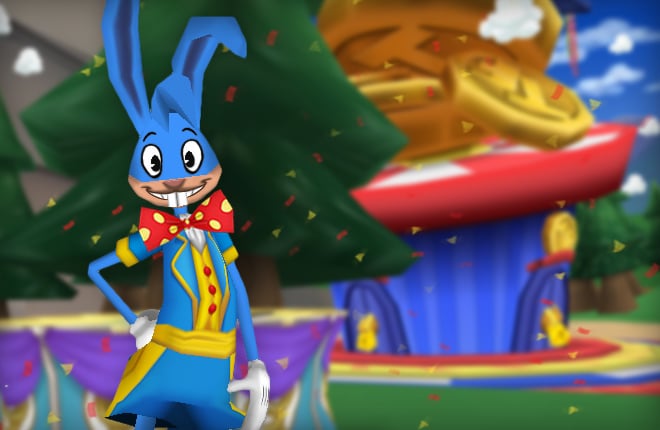 ---
Earn Exclusive Prizes
One of the most exciting parts of ToonFest are glamorous Token Takers, located within the ToonFest tower and at pop-up booths around the area! These Token Takers will sell you all sorts of exclusive items, from
limited time accessories
to
portable pies
to
experience multipliers!
No matter what kind of Toon you are, we've got a bunch of prizes in store for you. Earn ToonFest tokens by playing minigames in the area, and keep your eyes peeled for new ways to earn as the event goes on!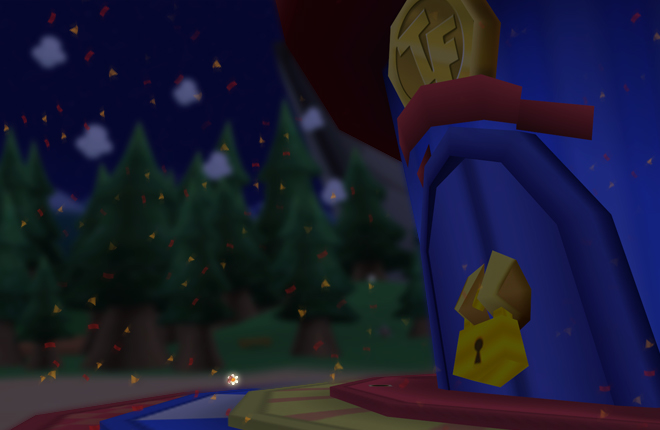 ---
Bigger and Better
ToonFest isn't just here for the weekend. We'll be partying all month long, and releasing updates and blog posts along the way to keep the fun going! Expect to see a couple new items, some tweaks here and there, and if we're lucky -- maybe even new ways to earn tokens! The Toon Council and Riggy Marole are cooking up a few activities that they hope to debut at this year's event.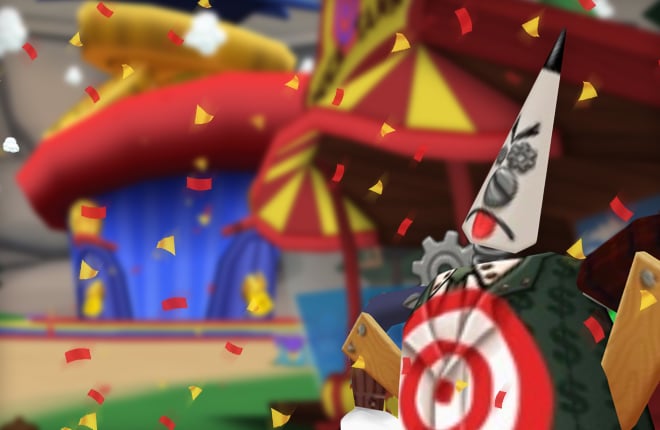 ---
Social Celebrations and Events
Throughout the event and today especially, we want to hear how YOU celebrate Toontown by posting on social media with "
#ToonFest
".
We'll be highlighting some of our favorite memories, fanart, and other exclusive content on
Twitter
,
Instagram
,
Facebook
,
Google+
, or
Snapchat
("ToontownTV").
It doesn't end there. As the event goes on, you may find us putting out some redeemable in-game codes that can only be found on our social media pages rather than here on the blog. All of us Toons are super connected within Toontown, and we want to stay connected with you outside of it!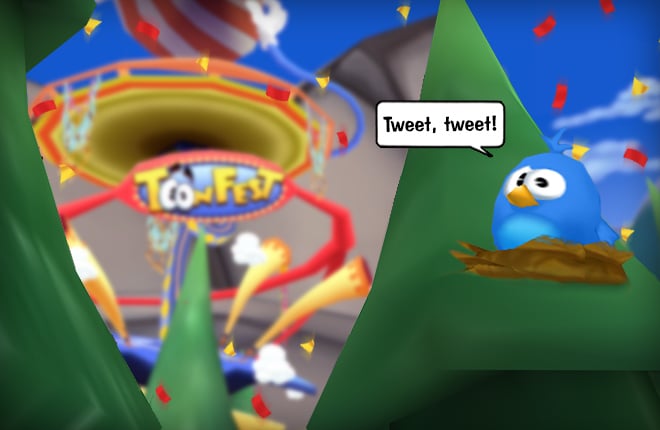 ---
We know you're eager to get this party started, but we've got to deploy the update first! Stay TOONed throughout the day on when to expect that ToonFest Tower to open up, but rest assured, we won't keep you waiting long.
Thank you all so much for
FOUR YEARS
of Toontown Rewritten!
You
ARE
"Toon Enough"!
September 19, 2017 [ttr-live-v2.0.4]
Maintenance
• Improved server performance to handle higher player load.
• Updated server engine with performance and stability improvements.

General
• Updated Deer and Crocodile sounds to blend better with other animal sound effects.
• Fixed a bug causing Toon eyes to disappear in some scenarios, such as by wearing the Dork Glasses.
• Fixed a few bugs with the game's dynamic theme song.

Districts
• Implemented "Super Safe Districts", which disallow Invasion Summoning. These districts are still susceptible to random invasions!
• Weekly events have been turned off in Safe Districts for those who want to avoid Bingo, Trolley Tracks, or the Grand Prix.
• Add a confirmation prompt when trying to teleport to Welcome Valley.
• Changed layout of district page to be more informative and less cluttered.
• Fixed a crash related to Welcome Valley.

ToonFest
• ToonFest 2017 is here! Head over to the event tunnel in Acorn Acres to join the party, or click on the red icon next to your friends list.
• Fixed a number of bugs left over from last year's ToonFest.
• The ToonFest tunnel will automatically open and close when the event starts and ends, allowing the event to start without an update in the future.
• Unlike last year, the doors of the ToonFest Tower are already open! You can start buying those unique items as soon as you have tokens in your jar, rather than waiting for it to unlock. Keep your eyes peeled for new ways to earn tokens as the event continues.

Parties
• Improved general stability of Toon Parties.

Racing
• Improved general stability of racing.
• The leaderboard now shows some of Goofy's personal records to try and beat, rather than an empty list when the top 10 hasn't been filled.
• Fixed a bug causing leaderboards to show an incorrect time for some records.
• Grand Prix races should now give out the proper amount of tickets.
• Improved Grand Prix bonus ticket calculation to account for disconnected racers.
• Fixed a crash caused by racers taking too long to finish a race.
• Fixed a bug causing Racing Trophies to be calculated incorrectly.

Battle
• Increased the spawn rate of Cogs in all playgrounds but Toontown Central. Give us feedback to let us know if this new spawn rate is too much, or too little!
• v2.0 or Skelecog Mega-Invasions now contain "waves" of Cogs, resulting in a different type of Cog invading every few hours.
• Fixed a bug causing Cogs to appear invisible on rare occasion during battle.

Playground
• Extend the timer of the Diving Game by 10 seconds to allow Toons to collect up to three treasures.
• Fixed a few visual bugs in Donald's Dreamland.

Estate
• Fully bloomed flowers can now be picked without an additional confirmation prompt. Pick those flowers as fast as the wind!
• Fixed a district reset related to the Cattlelog.
• Removed duplicate accessories from the Cattlelog.

---
Comments
Sorry! Comments are closed.
---
---
---
---
---
---
---
---
---
---
---
---
---
---
---
---
---
---
---
---
---
---
---
---
---
---
---
---
---
---
---
---
---
---
---
---
---
---
---
---
---
---
---
---
---
---
---
---
---
---
---
---
---
---
---
---
---
---
---
---
---
---
---
---
---
---
---
---
---
---
---
---
---
---
---
---
---
---
---
---
---
---
---
---
---
---
---
---
---
---
---
---
---
---
---
---
---
---
---
---
---
---
---
---
---
---
---
---
---
---
---
---
---
---
---
---
---
---
---
---
---
---
---
---
---
---
---
---
---
---
---
---
---
---
---
---
---
---
---
---
---
---
---
---
---
---
---
---
---
---
---
---
---
---
---
---
Back To Top