More News
V2.0 is a "Hole-In-One" for the Cogs
Posted by The C.E.O. on September 7, 2017 at 2:30 PM
Let's get down to business. I am the Chief Executive Officer of the Cogs, known to my workplace associates in Bossbot HQ as
The C.E.O
. It's been brought to my attention that you
Toons
have conjured up some infernal combination of fun known as "
The Toontown v2.0.0 Update
." Us Cogs have our own form of V2.0, you know...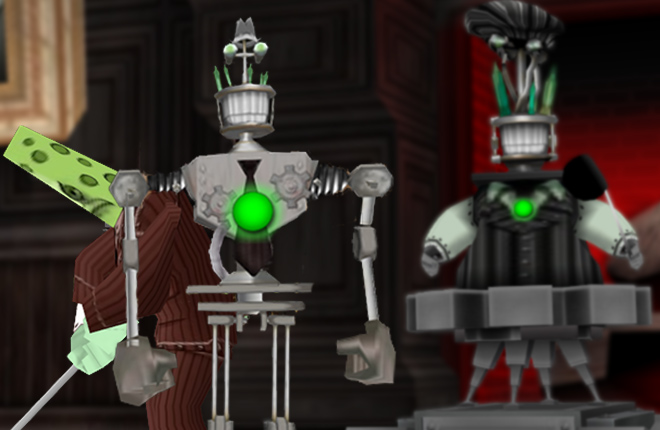 Due to our big swing this quarter, sales were predicted to land a hole-in-one. Business is a great game of golf, you see, and Toontown is the target. This burst of silliness from the Toons has put a significant damper in our quarterly earnings. I take pride in my golf, Toons, and I won't stand to be defeated so easily.
I've stolen my fair share of business tactics over the years, but the Toons stealing our v2.0 is worthy of a pink slip.
The fun must be stopped.
You'll be "happy" to know that I have a plan in order to counter your ridiculous parties and racing gimmicks. Starting now,
V2.0 Cogs have hit the streets of Toontown for a grand Mega-Invasion.
Try to have fun with
that
kind of V2.0.
You may have your "Safe Districts" to protect you, and I've received a memo that Toon HQ plans to implement "
Super Safe Districts
" to prevent Invasion Summons, but the Cogs will still have our profit margins. Enough V2.0 Cogs have been produced to last until
Sunday, September 10th
.
Enough of this nonsense. I have a banquet to attend.
---
Comments
Sorry! Comments are closed.
---
---
---
---
---
---
---
---
---
---
---
---
---
---
---
---
---
---
---
---
---
---
---
---
---
---
---
---
---
---
---
---
---
---
---
---
---
---
---
---
---
---
---
---
---
---
---
---
---
---
---
---
---
---
---
---
---
---
---
---
---
---
---
---
---
---
---
---
---
---
---
---
---
---
---
---
---
---
---
---
---
---
---
---
---
---
---
---
---
---
---
---
---
---
---
---
---
---
---
---
---
---
---
---
---
---
---
---
---
---
---
---
---
---
---
---
---
---
---
---
---
---
---
---
---
---
---
---
---
---
---
---
---
---
---
---
---
---
---
---
---
Back To Top