More News
The New Toon Laff-o-lympics
Posted by Flippy on August 30, 2017 at 9:00 AM
Hi there, Toontown! I've been cooped up in Toon Hall recently, but not without good reason. The new Toon Species are moving in soon, and I've been seeing to it that they get the warmest welcome that a Toon can give. Read on to hear about how we'll be welcoming these citizens -- Crocodile and Deer Toons are just a few days away!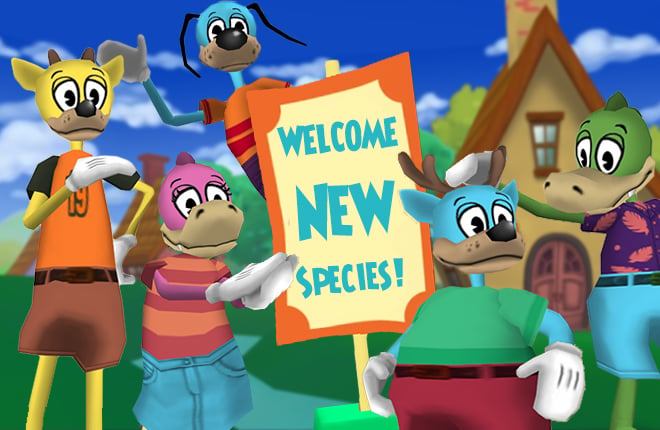 Boy, it sure is an exciting time to be President of Toontown. I love welcoming new Toons to town, but it isn't every day that I get to welcome
TWO new Toon Species
! Last I checked in, the Crocodiles were hopping and bopping to the "Crocodile Rock" while the Deer Toons were so excited that they looked like a Deer in the headlights. I have a feeling that they'll fit in fine!
With all of these new citizens coming to Toontown, we can't just expect to give them an ordinary wave "Hello." What are we, animals? I mean -- you get the point. Instead, I've put together something a lot more interesting:
The New Toon Laff-o-lympics!
Our town is full of great gags and loud laughs, which is exactly what the Laff-o-lympics are all about. As soon as the new Toon Species arrive, any new Deer or Crocodile Toon will have until
September 30th
to race to the highest Laff they can get!
The Laff-o-lympics has three milestones, each with a prize better than the last. The prizes will be given to ALL Deer and Crocodile Toons who reach one of the milestones by September 30th!
50 Laff - Receive a bronze medal shirt and a "New Toon Starter Pack" full of jellybeans and ToonFest tokens!
100 Laff - Receive a silver medal shirt and an exclusive SpeedChat phrase to show your glory!
115 Laff - Receive a gold medal shirt, and enter a drawing to win one of three real-world Toontown prize packs with a Toontown poster, drawstring bag, and trading cards! ONE grand prize winner of the drawing will receive a Toontown poster signed by members of the Toontown team.
Each milestone will receive the previous milestone's rewards in addition to the listed prizes. The medal shirt rewards are not the same as the gold medal shirt given during January's Top Toons contest.
Do you think that's enough to get those Deer and Crocodile Toons excited? Just wait, there's even more to come! Check the Toontown blog tomorrow for another amazing look at
Toontown's biggest update yet
!
---
Comments
Sorry! Comments are closed.
---
---
---
---
---
---
---
---
---
---
---
---
---
---
---
---
---
---
---
---
---
---
---
---
---
---
---
---
---
---
---
---
---
---
---
---
---
---
---
---
---
---
---
---
---
---
---
---
---
---
---
---
---
---
---
---
---
---
---
---
---
---
---
---
---
---
---
---
---
---
---
---
---
---
---
---
---
---
---
---
---
---
---
---
---
---
---
---
---
---
---
---
---
---
---
---
---
---
---
---
---
---
---
---
---
---
---
---
---
---
---
---
---
---
---
---
---
---
---
---
---
---
---
---
---
---
---
---
---
---
---
---
---
---
---
---
---
---
---
---
---
---
---
---
---
---
---
---
---
---
---
---
---
---
---
---
---
---
---
---
---
---
---
---
---
---
---
---
---
---
---
---
---
---
---
---
---
---
---
---
---
---
---
---
---
---
---
---
---
---
---
---
---
---
---
---
---
---
---
---
---
---
---
---
---
---
---
---
---
---
---
---
---
---
---
Back To Top