More News
The Toontown v2.0.0 Update
Posted by Sir Max on September 1, 2017 at 8:00 PM
The time has finally come. Pack your bags, put on your fanciest accessory, and throw out those old PlayLine brochures. We're about to unleash our largest update yet, and enthusiasm from Toons around the world can hardly be curbed.
Today, Toontown leaves Beta!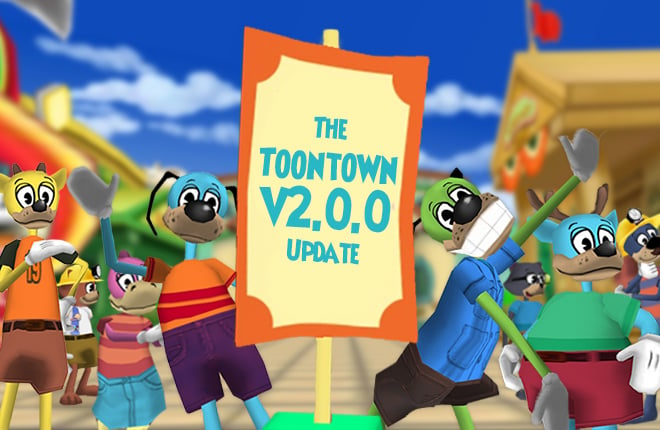 This, my friends, is the final blog post. Oh, no, no, not the final blog post
ever;
they can't get rid of me that easily. This is the final blog post of the
version 2.0.0 update
, which is so massive that the Toon Council asked us to split it into four separate blog posts. This update is jam-packed with
a Goofy Speedway overhaul
, Toontown's
new Toon Species
, and
the return of Toon Parties
-- but these are just the biggest features in this update, and far from the only part of it!
This final blog post is full of simple things in life. Think about how awesome it would be if
Toon eyes would no longer be stuck closed
, or if
Toons could now hold all SOS cards
. Lucky for you, this update
is
that awesome. Let's take a look at some of the other changes going in!
Districts: New and Improved!
In this new update, Districts are getting some changes!
All Districts of Toontown have been renamed
to a brand new format that is easier to spell, more fun to say, and much better fits the wacky things that happen here. This change is one of the small ways that the Toon Council is looking to improve Toontown as a whole. Who knows how to spell Renaissance River, anyway?
(I did spell it right, didn't I?)
You'll have to pop open your Shtickerbook to see the full list, but in the meantime, here is an updated list of safe districts for Mega-Invasions:
Blam Canyon
Fizzlefield
Gulp Gulch
Splat Summit
Zapwood
TOON TIP: These districts are also "safe" from the Grand Prix's Grand Opening event, in case you wanted to race outside of the tournament.
Speaking of which, those aren't the only special districts in town. The Toon Council is rolling out a feature we're excited to announce:
SpeedChat-only Districts
! These districts don't allow any Toon to use SpeedChat+, in case you wanted to play with other SpeedChat users without seeing
mew
,
eek
, and
rarr (That's Crocodile!)
everywhere, or just to have a bit more peaceful experience.
Here is the list of SpeedChat-only Districts, which can also be identified by the green "SpeedChat" icon next to their name in the Shtickerbook:
Boingbury
Gulp Gulch
Whoosh Rapids
"Reel-y" Great Estate Improvements!
Do you want to escape the busyness of Playgrounds and do some good ol' fashioned fishing at home? Are you tired of traveling all the way back to the Playground to sell your fish? -- Travel no longer, because have I got a deal for you: Introducing the
Estate Fishing Bucket
!
These specially engineered buckets, designed by Loony Labs, have a Portable Hole at the bottom to take your fish straight to the Pet Shop. You should see the little buggers flying out of that hole, with the Pet Clerks diving to catch them! Every Estate in Toontown has been given this bucket, which you can use at any time.
No purchase necessary!
You'll also find yourself getting stuck in closets no longer. The old closets were dripping glue during the hot weather of summer, but we've issued a recall and replaced all closets and accessory trunks with some shiny new ones that will let you leave the closet's clutches in peace. We moved your clothes over, too -- you're welcome!
Brand New Start Screen!
What would a new logo be without some
new theme music
to accompany it? The game's entrance screens have been updated with a new flow, which includes a splash screen to start the game. You'll also want to listen closely to the new theme music, which changes based on what screen you're on!
In future updates, we'll be enhancing this screen with some fun animation and possibly a new look for the Pick-a-Toon, as well as different main menu options. We'll also be experimenting with booting Toons to the splash screen upon an unexpected disconnect, rather than all the way back to the launcher. Let us know what you think of the changes, and what other changes you'd like to see!
But Wait, There's More!
Here it is, Toontown. The moment you've all been waiting for. Listed below are the official release notes of
Toontown v2.0.0
, containing all of the goodies we've talked about so far and a whole bunch more!
On behalf of the Toon Council, I'd like to thank all of our valiant Alpha and Beta Testers who helped us reach this point. This is a big step for Toontown, and we've been working on this update for many months looking forward to this day.
Toontown will be going down for our biggest update yet at 9:00PM Toontown Time.
THANK YOU
, Toons of Toontown. We hope that you enjoy the new update!
September 1, 2017 [ttr-live-v2.0.0]
General
• Toontown Rewritten has officially left Beta!
• Added new Toontown logo and branding throughout the game.
• Added new Toontown theme song.
• The opening sequence to the game has been redesigned! This will continue to be enhanced in future updates.
• The game cursor can now be modified with custom resource packs.
• Players can now manually enable an experimental feature called "smooth-frames" in their settings.json file, which will allow the game to run at a higher frame rate. This feature will be moved to the Shtickerbook after more testing!
• Resource packs can now set unique battle music for each Playground or Cog HQ. All unique Playground battle music must exist as "phase_3.5/audio/bgm/encntr__bg.ogg". For example, "encntr_ttc_bg.ogg" will use custom battle music only for Toontown Central. Cog HQ battle music should go in its respective phase folder.

Toons
• Fixed a bug where Toon's eyes would remain permanently shut.
• Over 25 new accessories have been added, including many fan favorites from Toontown Online with a new and improved appearance. These will start arriving in future issues of the Cattlelog.
• New Toon Species have come to Toontown! Go and make a Deer and Crocodile Toon TODAY!

Districts
• Toontown's Districts have been renamed! The Toon Council has come up with new district names that are easier to spell, more fun to say, and fit in perfectly with the wackiness of Toontown.
• Implemented SpeedChat-only Districts, which restrict the usage of SpeedChat+. These districts are marked with a green SpeedChat button.
• Updated district-filling algorithm to fill up Districts to a more ideal population. This algorithm also prevents SpeedChat+ players from landing in a SpeedChat-only district when possible.

Shtickerbook
• Fixed a number of glitches relating to the Shtickerbook.
• Toons can now hold all SOS cards! The Shtickerbook page and battle screen has been redesigned to allow them to be scrolled and sorted.
• Racing stats can now be seen on the "Trophy" tab of the "Racing" page to keep track of progress.

Estates
• Fixed a bug causing Toons to get stuck in their wardrobe or accessory trunk.
• Toons can now sell fish at their estate! Each estate has been supplied with a special fishing bucket with a portable hole in the bottom, which will take your fish straight to to the Pet Shop.

Racing
• We've rewritten the code for racing from the ground up! Racing previously was written very early in alpha, and had a number of problems that didn't scale well while the game was in Beta. Several of the issues fixed are listed here.
• Fixed a bug causing race timers to display negative numbers.
• Fixed a number of bugs relating to gags in Battle Races.
• Improved handling of Toon disconnects during races.
• Banana peels have a slightly smaller collision sphere.
• Implemented Goofy Speedway leaderboard. Compete to earn the fastest time of the day, week, or all time!
• The Grand Prix is here! Every Monday, you can enter a three-course racing tournament to score massive tickets.
• Winning races in the Grand Prix now count towards "total races won" trophies.
• To celebrate all of these racing improvements, Goofy Speedway is hosting a Grand Opening week for the Grand Prix! You can enter racing tournaments on any day until September 8th.

Parties
• Toon Parties are back, and better than ever! Head over to the giant party hat in any playground to plan or join a party! You can also find Party Planning tools in the "Events" section of the Shtickerbook.
• Implemented all party activities. Previously in Alpha, parties only had cannons, trampolines, and dance floors.
• Toons can now receive invitations to parties in the mail from their friends.
• When logging in and at the top of every hour, the party hat will let off a series of silly chimes to note the hour.
• Added new Toontown Rewritten songs to the Party Jukebox.

Battle
• "Toons Hit" and "Cogs Miss" SOS cards now work for the proper amount of rounds.
• Fixed a bug that would cause the "0 to go!" animation to trigger during the reward even if a Level 7 gag hadn't been used.
• Fixed a rare bug where Cogs would appear to be invisible during battle.
• Extended gag sound effects in resource packs will no longer stall battles.

Cog HQ
• Added new music for Cashbot HQ.
• Fixed a bug in Lawbot DA Offices where two laser battles could be triggered.
• Updated an incorrect prop in the Cashbot Bullion Mint which displayed cash instead of gold.
• Fixed a few bugs where Boss Cogs could still damage Toons while stunned or defeated.
• Fixed a bug where the VP stun sound effects would continue playing after unstunned.
• Fixed a bug where the CFO could become unstunned too early.
• Improved general behavior of CFO attacks.
• Toons will be alerted by Good Ol' Gil Giggles if the CEO has been fully slowed down by golf balls.
• Fixed a bug allowing Toons to walk around while the CEO is being demoted.
• Toons should no longer disappear during the Boss reward movie.

Miscellaneous
• Introducing Silly Saturdays! Every Saturday, stop by every 2 hours for Fish Bingo, Trolley Tracks, and Grand Prix events all combined into one silly day.
• Fixed a bug causing Toons to be booted out of the gag purchase screen before the timer runs out.
• Fixed a bug causing Whispering Willow and Paula Bear to send an excessive amount of whispers.
• Moved a picnic table in Acorn Acres to stop Toons from landing on it when entering.

New Update FAQ
Will my Toons be reset for the end of Beta?
Goodness, no! Toons had to be reset after alpha due to major changes in the inner-workings of the game, but at this point your Toons are here to stay. Everything will be exactly where you left it when logging back online.
Why is this update occurring so late at night?
Because of the scale of this update, we need all of our developer hands on deck. Since Toontown is an entirely volunteer effort, most of us are away at work during the day and must do our work in the wee hours of the night.
Luckily, this also means that we'll be able to get the update deployed with less player load so that we can make sure everything is in tip-top condition before the rest of the playerbase comes online. We hope you didn't stay up too late for us!
Woo! Beta is over! That means no more bugs, right?
Hold your horses there, partner. This update has been in extensive testing for the past few months, including a test run with our players at ToonFest 2017, but results can be unpredictable when the update hits thousands of players, rather than a few dozen. We've done our best to ensure that the update is as bug-free as possible before it's deployed -- and if any bugs are discovered afterwards, we'll have them fixed up as quickly as can be!
In the future, we're investigating the possibility of opening a test server for players to help us find bugs and squash them before they go out. Stay TOONed!
What's next for Toontown Rewritten?
We've made a lot of progress this summer, and it won't be ending after v2.0.0. This update is the result of a lot of hard work and dedication that our team has put in over the past few months, which has brought motivation to an all time high. We'll be continuing to keep our ears open to the community about what they'd like to see next, but I'll let you in on a secret:
We're already working on our next big update!
For more information about the new update and the end of Beta, contact
[email protected]
.
---
Comments
Sorry! Comments are closed.
---
---
---
---
---
---
---
---
---
---
---
---
---
---
---
---
---
---
---
---
---
---
---
---
---
---
---
---
---
---
---
---
---
---
---
---
---
---
---
---
---
---
---
---
---
---
---
---
---
---
---
---
---
---
---
---
---
---
---
---
---
---
---
---
---
---
---
---
---
---
---
---
---
---
---
---
---
---
---
---
---
---
---
---
---
---
---
---
---
---
---
---
---
---
---
---
---
---
---
---
---
---
---
---
---
---
---
---
---
---
---
---
---
---
---
---
---
---
---
---
---
---
---
---
---
---
---
---
---
---
---
---
---
---
---
---
---
---
---
---
---
---
---
---
---
---
---
---
---
---
---
---
---
---
---
---
---
---
---
---
---
---
---
---
---
---
---
---
---
---
---
---
---
---
---
---
---
---
---
---
---
---
---
---
---
---
---
---
---
---
---
---
---
---
---
---
---
---
---
---
---
---
---
---
---
---
---
---
---
---
---
---
---
---
---
---
---
---
---
---
---
---
---
---
---
---
---
---
---
---
---
---
---
---
---
---
---
---
---
---
---
---
---
---
---
---
---
---
---
---
---
---
---
---
---
---
---
---
---
---
---
---
---
---
---
---
---
---
---
---
---
---
---
---
---
---
---
---
---
---
---
---
---
---
---
---
---
---
---
---
---
---
---
---
---
---
---
---
---
---
---
---
---
---
---
---
---
---
---
---
---
---
---
---
---
---
---
---
---
---
---
---
---
---
---
---
---
---
---
---
---
---
---
---
---
---
---
---
---
---
---
---
---
---
---
---
---
---
---
---
---
---
---
---
---
---
---
---
---
---
---
---
---
---
---
---
---
---
---
---
---
---
---
---
---
---
---
---
---
---
---
---
---
---
---
---
---
---
---
---
---
---
---
---
---
---
---
---
---
---
---
---
---
---
---
---
---
---
---
---
---
---
---
---
---
---
---
---
---
---
---
---
---
---
---
---
---
---
---
---
---
---
---
---
---
---
---
---
---
---
---
---
---
---
---
---
---
---
---
---
---
---
---
---
---
---
---
---
---
---
---
---
---
---
---
---
---
---
---
---
---
---
---
---
---
---
---
---
---
---
---
---
---
---
---
---
---
---
---
---
---
---
---
---
---
---
---
---
---
---
---
---
---
---
---
---
---
---
---
---
---
---
---
---
---
---
---
---
---
---
---
---
---
---
---
---
---
---
---
---
---
---
---
---
---
---
---
---
---
---
---
---
---
---
---
---
---
---
---
---
---
---
---
---
---
---
---
---
---
---
---
---
---
---
---
---
---
---
---
---
---
---
---
---
---
---
---
---
---
---
---
---
---
---
---
---
---
---
---
---
---
---
---
---
---
---
---
---
---
---
---
---
---
---
---
---
---
---
---
---
---
---
---
---
Back To Top