More News
Toons of the World, Start Your Engines!
Posted by Sir Max on August 29, 2017 at 9:00 AM
It's been quite some time since I was able to write a post about my adventures in Toontown, but with all of this Toon Trooper work dying down, I'm able to put my focus back on what my job is supposed to be: Running the Toontown Blog.
Sir Max is BACK, baby!
Now let's talk Driver Safety.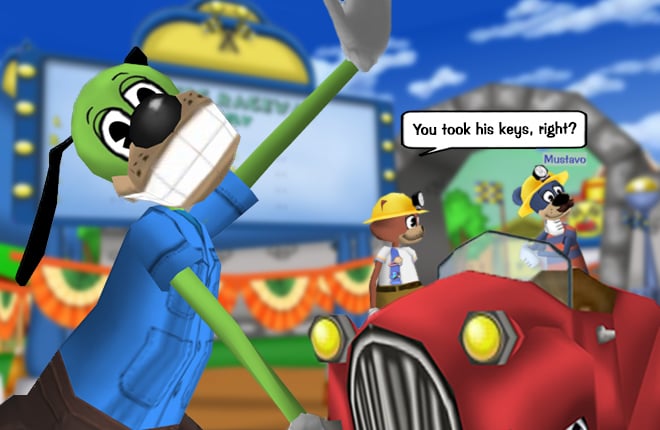 Don't give me the
"You stink!"
eye. I know I've not been the best driver in the past, but I'm a changed Toon! And by changed Toon, I mean that the Toon Council mandated that I write a lesson on Driver Safety or else I'd be suspended from Goofy Speedway. Oof.
Some of you may be thinking
"Well, who cares? Goofy Speedway doesn't have much to do."
My dear doubtful Toons, you must not have heard about
The Grand Prix
and
Racing Leaderboards
! That's right -- coming in Toontown's next update, Goofy Speedway is getting all sorts of fixes along with these features.
The Grand Prix is a new upcoming weekly event here in Toontown, occurring every Monday, where Toons can enter a three course racing tournament for massive amounts of tickets! Better yet -- Goofy Speedway will be hosting a
Grand Prix Week
at the launch of this new event, which means Toons can race in the Grand Prix as much as they want for an entire week when this update is released!
The Grand Prix also allows Toons to receive the final racing trophy, which grants the legendary
137th Laff Point
for the first time ever. Who will be the first Toon to claim that prize?
Oh, and about those leaderboards. You know,
the one I crashed into
a few years back? They're all fixed up! Toons can compete for the top racing time to get their name on the leaderboard.
Now, back to driver safety. I hope you're ready to take some notes, because this stuff is extremely important. Here are
Sir Max's Rules of Racing:
Inspect tunnels for dripping paint as you draw near. Toons have been known to crash their cars into tunnels painted onto walls, known as the "Roadrunner effect."
Whenever eating and driving during a Battle race, make sure all banana peels are discarded out the window. Failing to litter your banana peels is just a missed opportunity for a good gag.
If a sign tells you to stop, make sure to listen to it or else it'll be very upset. I ignored a sign who asked me to stop and it started yelling some rather un-Toony words at me.
Remember your traffic signals: Red means STOP, green means GO, and yellow means PANIC AND DECIDE WHETHER TO FLOOR IT OR SLAM ON THE BREAKS.
No diving in the car pool lane unless a lifeguard is on duty.
When driving through quiet neighborhoods, it's mere politeness to roll down your windows, throw on some shades, and crank up your bass to max volume while be-bopping to the Toontown Hop. Everyone stares at you in adoration!
The Goofy Speedway enhancements aren't here quite yet, but never fear -- these activities are in final testing and will be released to Toontown as quick as you can get that 300 racing wins trophy! Don't worry, I'm kidding! Youch, that one hit home.
This update is so massive that we're splitting the posts up into multiple days leading to its release. Check back tomorrow for another blog post with details about
Toontown's biggest update yet
!
---
Comments
Sorry! Comments are closed.
---
---
---
---
---
---
---
---
---
---
---
---
---
---
---
---
---
---
---
---
---
---
---
---
---
---
---
---
---
---
---
---
---
---
---
---
---
---
---
---
---
---
---
---
---
---
---
---
---
---
---
---
---
---
---
---
---
---
---
---
---
---
---
---
---
---
---
---
---
---
---
---
---
---
---
---
---
---
---
---
---
---
---
---
---
---
---
---
---
---
---
---
---
---
---
---
---
---
---
---
---
---
---
---
---
---
---
---
---
---
---
---
---
---
---
---
---
---
---
---
---
---
---
---
---
---
---
---
---
---
---
---
---
Back To Top