More News
Super Saturday: Crash Course
Posted by Sir Max on November 23, 2013 at 2:00 PM
Helllloooooo everybody! Get yourselves ready for this Super Saturday update:
Remember those permits that we needed yesterday? We got them. Didn't even have to forge them. Since we have those permits, today I'm glad to announce the grand opening of
Goofy Speedway
!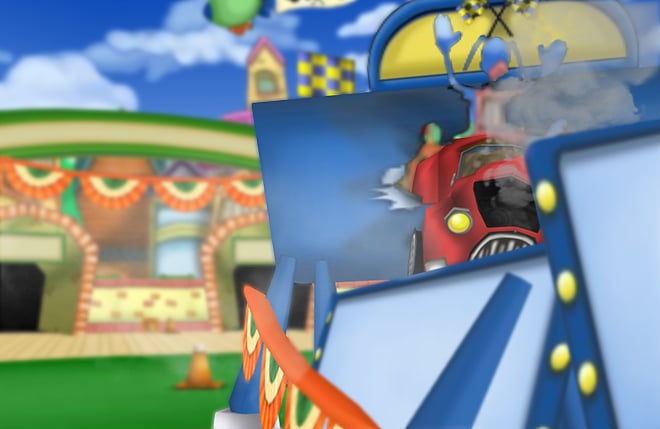 Goofy, with the assistance of Hawkheart and McQuack, has been working pretty hard on this racetrack throughout the week. It was absolutely stunning. You should have seen it. They had this fancy scoreboard, along with these awesome tracks open in the streets, the country, and of course the speedway. I decided to buy myself a sweet looking Kart to test it out. It didn't really end well.
So here I was minding my own business, just preparing for a race. Suddenly, this butterfly comes over and lands on my nose. I flick it away, at the same time accidentally putting pressure on the gas peddle. I quickly turned to the side, accidentally running into the rural raceway. I spun around quickly, which caused some sparks that set the oil-covered grass on fire. We're not done yet, though! After crashing through there, I managed to turn around and plunge straight into the city circuit. Thankfully no one was hurt, but I hope that those first few buildings had insurance.
Finally I swatted the butterfly away, which actually was just flying away as it saw that I was flying through the air straight towards Hawkheart's scoreboard. So yeah, that is pretty much destroyed. Never fear, though! The Speedway Circuit remains untouched. So there's that. Plus, I save 15% or more on my car insurance. That lizard really knew his stuff!
November 23, 2013 [ttr-alpha-gb760285]
Maintenance:
? Lay down framework for an upcoming new event

Bugfixes:
? Toon running SFX is now synced with the animation.

Tweaks:
? Woke up the SpeedChat button to remove Roger Dog phrases.
? Change some minor loading screen text here and there.
? Rename "Emotions" to "Animations"
? Revert Disney's update to make the Jellybean counter much faster than it needs to be. It now goes at a normal rate.

Features:
? Goofy Speedway is really open for business! Not a fake open this time. You can head on over there to buy a Kart and start racing.
? Opened Speedway Circuit. Thankfully Sir Max didn't touch this one.
? Widescreen support for races.
? Toon T.A.G.S. have received a major update from Loony Labs! This update is still in the testing phase and will receive improvements over the next few days.

? Toon T.A.G.S. now grow larger when you are far away from them. You no longer have to obviously squint when trying to "remember" someone's name!

? The side of your screen now shows where toons are located around you, along with whatever wacky things they are saying.
---
Comments
Sorry! Comments are closed.
---
---
---
---
---
---
---
---
---
---
---
---
---
---
---
---
---
---
---
---
---
---
---
---
---
---
---
---
---
---
---
---
---
---
Back To Top