More News
Daily Alpha Update: Donald or Daffy?
Posted by Sir Max on November 20, 2013 at 2:00 PM
Man, has this been an exciting week! We've opened five neighborhoods already, and it is getting pretty tiring. We've still got a few more to go, though! Before announcing today's neighborhood, I should tell you about what went on a few months ago when planning the construction of it.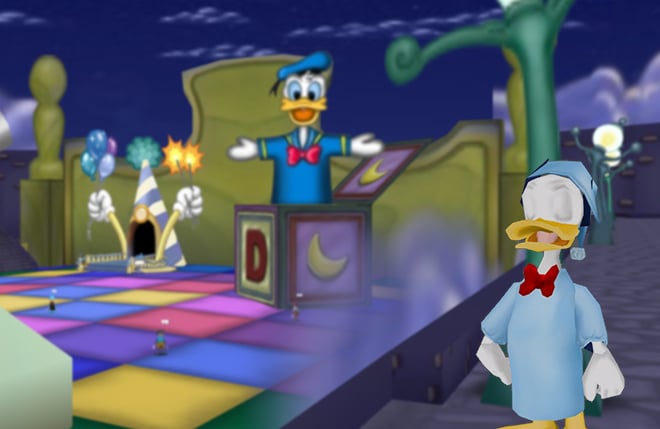 It was an average Toon Council meeting. The table was flipped over, Chip and Dale were arguing, pies were being thrown- the usual deal. We had planned every single neighborhood except for one, which was undecided. Suddenly, I had a brilliant idea.
"Hey guys, how about we call up Daffy Duck? He may be willing to move to town." Suddenly it all went downhill. Donald Duck threw his hat onto the ground and stormed over to the head of the table. He went on a raging fit about Daffy, calling him some names that I don't care to mention here. "He's not even a real duck! Have you seen a black duck? I certainly haven't!"
After an hour of his ranting, we finally voted to give Donald a
second
playground for him, however he could only use it for sleeping. Just to make sure that he followed this rule, the entire playground is a gigantic bed made of the fluffiest feathers that a toon could pluck.
yawn
...In fact, this place is pretty cozy... Maybe it wouldn't hurt to lay down for a second or...two... . . . ZZZ . . .
November 20, 2013 [ttr-alpha-g1b75482]
Maintenance:
? Fix a server freeze during the event loop

Bugfixes:
? Chat Bubbles no longer slant upwards in the Canon Game
? You will no longer get stuck on the trolley if a toon logs out mid-game.
? Chat Bubble/Nametag flickering should be actually fixed now.

Features:
? It looks like someone left behind some laff-notes in Minnie's Melodyland.
? Tenor Terrace is open! Head on over to the giant fluffy pillow of Donald's Dreamland. Be careful not to fall asleep there!
---
Comments
Sorry! Comments are closed.
---
---
---
---
---
---
---
---
---
---
---
---
---
---
---
---
---
---
---
---
---
---
---
---
---
---
---
---
---
---
---
---
---
---
---
---
---
---
---
---
---
---
---
---
---
---
---
---
---
---
---
---
---
---
---
---
---
---
---
---
---
---
---
---
---
---
---
---
---
---
---
---
---
---
---
---
---
---
---
---
---
---
---
---
---
---
---
---
Back To Top