More News
Daily Alpha Update: "...And it was all a dream."
Posted by Sir Max on November 22, 2013 at 2:00 PM
. . . ZZZ . . .
roger.. acorns...
AH! Woah, I'm awake. Is it 2:00 TTT already? How long have I been sleeping?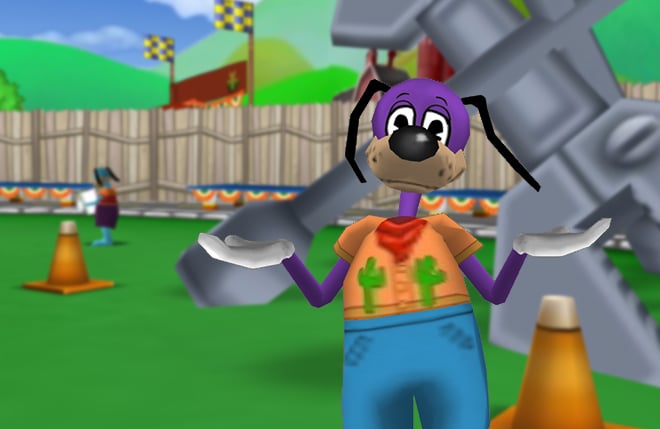 You guys aren't going to believe this. I fell asleep at Dreamland and had the most horrible nightmare. You know that guy Roger Dog? I had this dream where he took over all of Toontown. For an entire day,
everyone
turned into Roger Dog. Gah, gives me shivers just thinking about it.
Whew. Anyway. Somehow, it appears that we finished a whole update even though everyone was sleeping. It's probably best not to question it and make the most of what we have. I'm proud to announce the opening of our final neighborhood in Toontown:
Goofy Speedway
! Head on over to the Speedway through Toontown Central to go racing on the streets and alleys of Toontown!
There is just one catch though. We sort of haven't gotten the permits yet to allow you to race on the streets, so the tunnels are going to be temporarily closed. It's in the works, though!
November 22, 2013 [ttr-alpha-g7f1425d]
Bugfixes:
? Fix a crash with Photo Fun introduced with fixing streets
? Fix Toon Slingshot in playgrounds outside of Toontown Central
? Shop signs shouldn't flicker anymore.
? Actually fix Trolley Tracks flickering for 16-bit depth GPUs.
? Toon T.A.G.S. got another firmware update from the labs to fix a few graphical issues.

Features:
? Wake up from the horrible Roger Dog nightmare.
? Goofy Speedway is open for business! But not actually open for business, considering we still need to get a few permits. So it's pretty much just open.

---
Comments
Sorry! Comments are closed.
---
---
---
---
---
---
---
---
---
---
---
---
---
---
---
---
---
---
---
---
---
---
---
---
---
---
---
---
---
---
---
---
---
---
---
---
---
---
---
---
---
---
---
---
---
---
---
---
---
---
---
---
---
---
---
---
---
---
---
---
---
---
---
---
---
Back To Top