More News
Daily Alpha Update: hi im roger dog
Posted by Roger Dog on November 21, 2013 at 2:00 PM
. . . ZZZ . . .
hi im roger dog you can call me roger dog for short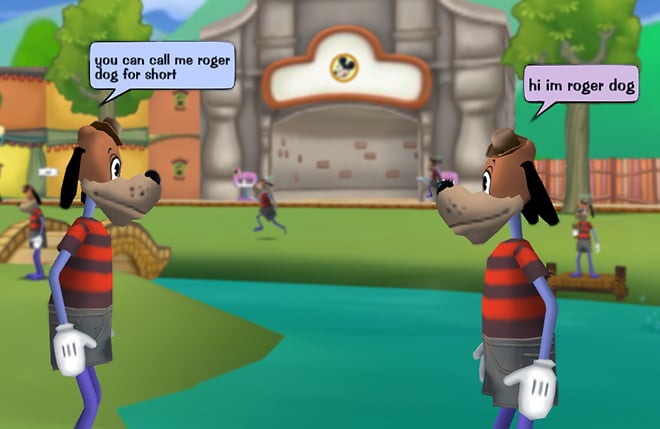 im here today to announce that we roger dogs have succeeded in taking over the world so thats pretty cool i guess.
to celebrate we opened this outdoor zone where we can golf and stuff but its not actually done yet so we cant golf. sorry. but its still a place where you can go and we are going to call it
chip and dales acorn acres
.
by the way have you seen my friend roger dog? his name is roger dog you can call him roger dog for short. i might be roger dog.
but yeah thats it i guess. bye roger dog
November 21, 2013 [ttr-alpha-g1b75482]
Bugfixes:
? Prevent street signs from flickering
? Fix Trolley Tracks bug on 16-bit GPUs where the tracks would flicker
? The trolley now properly travels through tunnels in Trolley Tracks

Features:
? Roger Dog
? Some Zzz's have appeared in Dreamland. I wonder who is sleeping there?
? Chip and Dale's Acorn Acres, which will serve for an activity area in Toontown, is now open! Be sure to bring some cushioned shorts- that geyser can get pretty hot.
---
Comments
Sorry! Comments are closed.
---
---
---
---
---
---
---
---
---
---
---
---
---
---
---
---
---
---
---
---
---
---
---
---
---
---
---
---
---
---
---
---
---
---
---
---
---
---
---
---
---
---
---
---
---
---
---
---
---
---
---
---
---
---
---
---
---
---
---
---
---
---
---
---
---
---
---
---
---
---
---
---
---
---
---
---
---
---
---
---
---
---
---
---
---
---
---
---
---
---
---
---
---
---
---
---
---
---
---
---
---
---
---
---
---
---
---
---
---
---
---
---
---
---
---
---
---
---
---
Back To Top