More News
Daily Alpha Update: Ice-Ape Escape
Posted by Sir Max on November 18, 2013 at 2:00 PM
Hey there, fellas! I'm back once again for the update. Sorry for my absence yesterday, but the police managed to catch up with me. And by catch up to me, I mean I blatantly walked back to the exact location where I
stole
borrowed the Ice Rink. Now, now- Before you go calling names, let me explain myself.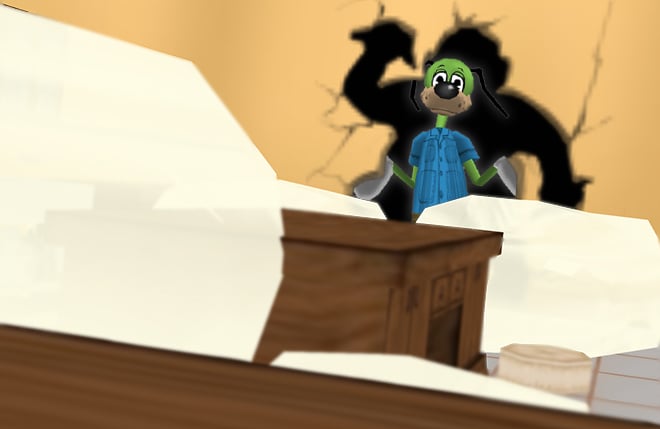 So I got a call from McQuack yesterday to come inspect the new neighborhood before it was released today. "Oh yeah, no problem!" I say to him. "I'll be there in a few minutes."
I arrived at
The Brrrgh
, only to find that the entire squadron had me surrounded. I'm sure you all remember back when Hawkheart and I borrowed that Ice Rink. As it turns out, we sort of took it from the construction of the new area. It was a frozen lake in the middle of snowy nothingness. How would I know that it had a major part in the construction of a new playground?
I was taken into Toon HQ and sentenced to a 20 minute timeout, and let me tell you: Those were the hardest 7 minutes of my life. You see, my timeout room was the glass case with all of the fancy science equipment. I started messing around with some chemicals in there, but after I accidentally shrunk McQuack, they made me stop. You think I stopped there? Ohohoho, of course not! See, the Toon HQ was testing their new banana-peeling machine in that same room. I was playing Hide and Seek with the ape inside of it (Which is harder than you think in a 10 x 5 rake-long room), but he threw a fit when he couldn't find me. He slammed through the wall, banana in hand, making a gaping hole for me to slip through.
Now, if you happen to see anyone looking for me, I threw some green paint on the ape who is probably running around causing havoc somewhere. Just point them in his direction, and we'll all be fine!
November 18, 2013 [ttr-alpha-gfe652e1]
Maintenance:
? Minor code cleanup on neighborhoods.

Bugfixes:
? Fix a crash upon entering Toon HQ

Features:
? Laff-o-Dils have bloomed in Daisy Gardens!
? Lighthouse Lane is open for business! Head on over to The Brrrgh- just ignore the big hole in the ice that definitely wasn't stolen by anyone.
? The loading screen has been changed even more to resemble a cartoon intro.

FEEDBACK: What other things can we change to reinforce the idea that Toontown takes place inside of a cartoon?
---
Comments
Sorry! Comments are closed.
---
---
---
---
---
---
---
---
---
---
---
---
---
---
---
---
---
---
---
---
---
---
---
---
---
---
---
---
---
---
---
---
---
---
---
---
---
---
---
---
---
---
---
---
---
---
---
---
---
---
---
---
---
---
---
---
---
---
---
---
---
---
---
---
---
---
---
---
---
---
---
---
---
---
---
---
---
---
---
---
---
---
---
---
---
---
---
---
---
---
---
---
---
---
---
---
---
---
---
---
---
---
---
---
---
---
---
---
---
---
---
---
---
---
Back To Top