More News
Daily Alpha Update: The Land of Music
Posted by Sir Max on November 19, 2013 at 2:00 PM
Behold! The lime dog approaches!
Greetings, my good fellows! Let's go to The Land of Music!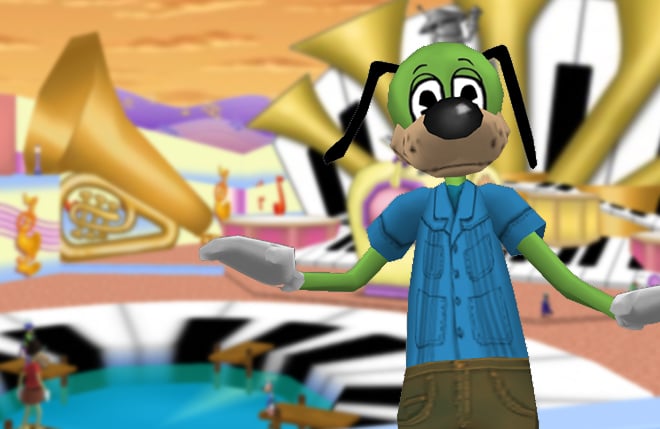 Wait, wait, wait. I feel like we've been here before. Definitely getting some deja vu vibes. I can't seem to place my finger on it, but
I'm pretty sure we already did this.
Shockley was there, so was Goshi and the other guys. We all ran to Minnie's Melodyland together, showing off the new streets of Toontown... Bah, that can't be possible. Minnie's Melodyland wasn't even built yet!
Back to reality: Without further ado, yada yada yada,
Minnie's Melodyland
! You can get there through newly-opened Loopy Lane in Toontown Central or Sleet Street in The Brrrgh. See you there!
November 19, 2013 [ttr-alpha-g3b2d62a]
Maintenance:
? Minor tweaks to administrative goodies

Bugfixes:
? Fix a crash in Match Minnie
? Fix some rendering issues for 16-bit depth GPUs. Chat Bubbles and Nametags should no longer flicker for anyone.

Tweaks:
? Modify some of the loading screen text to fit with the new layout

Features:
? There was a big snowstorm in The Brrrgh! Snowflakes large enough to make you laff are covering the area.
? Minnie's Melodyland construction has been completed! Head to Loopy Lane or Sleet Street to make your way over there.
---
Comments
Sorry! Comments are closed.
---
---
---
---
---
---
---
---
---
---
---
---
---
---
---
---
---
---
---
---
---
---
---
---
---
---
---
---
---
---
---
---
---
---
---
---
---
---
---
---
---
---
---
---
---
---
---
---
---
---
---
---
---
---
---
---
---
---
---
---
---
---
---
---
---
---
---
---
---
---
---
---
---
---
---
---
---
---
---
---
---
Back To Top