More News
ToonFest 2017
Posted by The Toontown Team on August 20, 2017 at 7:00 PM
On August 20th, 2013, Toontown Online announced the unthinkable. The Tooniverse would be closing forever, and Toons had one month to have one final send-off to the town that they all loved. The day came that the game was set to close, and on
September 19th
, Toontown Online's servers officially shut down...
But that was nowhere near the end.
It was time for Toontown's future to be Rewritten.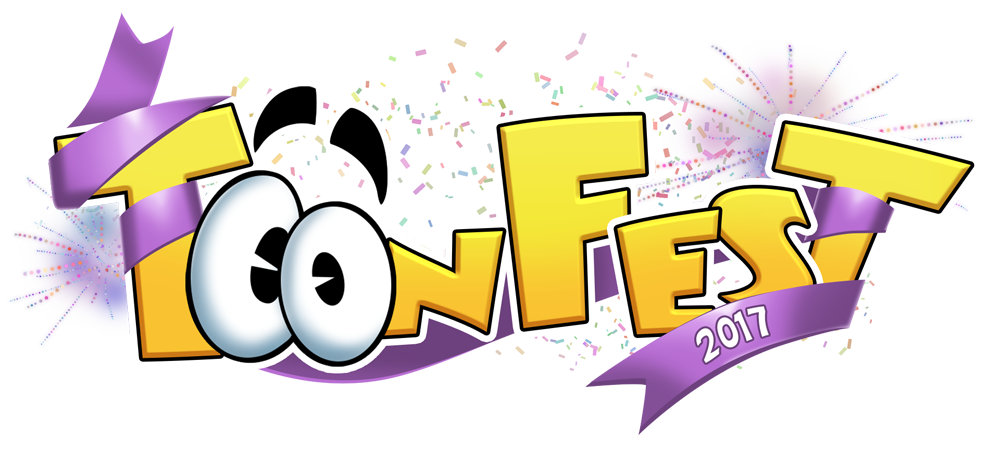 Now, it's time to change the narrative! August 20th is no longer a date to mourn, but a date to celebrate. Three years ago, we announced that Toontown would be open again to all players for
FREE
. Today, we're just a short time away from Toontown Rewritten officially being complete, marking the end of Beta!
We just celebrated an in-person celebration of Toontown at ReplayFX 2017, but the idea of ToonFest is so big that it can't be contained to a single weekend. On
September 19, 2017, we will begin Toontown Rewritten's fourth anniversary celebration with the in-game ToonFest event!
What is ToonFest?
ToonFest, based on the name of Disney's real-life Toontown event that took place in 2006 and 2007, is the annual celebration of all things Toontown! It's time to take a break from the Cog battles, make some new friends, and play some fun games while we think about how far we've come.
What happens at ToonFest?
On September 19th, the official in-game ToonFest celebration kicks off with a series of blog posts to keep you entertained and in the Toontown spirit. Here's a little synopsis of everything that the celebration has to offer:
Over in Acorn Acres, you can enter the ToonFest party grounds to join the fun.
Enter the most awesome area in Toontown with the giant Merry-go-Round, (Jelly) Bean Bags, and plenty of activities to keep you occupied while chatting up with friends.
A grand fireworks spectacular lights up the sky every three hours, and if you come a bit early you'll be able to catch the sunset.
Earn "ToonFest Tokens" to buy special items, accessories, and even a unique Toon color -- only available once per year!
Stop by and talk to Riggy Marole, the wackiest rabbit in town who acts as the emcee extraordinaire of ToonFest!
All of last year's bugs have been mended, and we're hoping to provide the most pleasant ToonFest experience yet. Enjoy the fun, without frustration!
What's new this year?
Now, now, a magician never reveals their tricks and the same goes for game developers. The delicious secret sauce that will make ToonFest Tokens taste even better this year will be unveiled with the event, but we're putting our main focus on releasing the new
version 2.0.0
update to you Toons as quickly as possible!
What is there to celebrate?
Toontown Rewritten's journey has been a long one. We have had a truly amazing three years since we first opened up the game to everyone and there is so much to celebrate. Here's the main thing:
by the time ToonFest starts this year, Toontown Rewritten will no longer be in beta.
What better to celebrate than with ToonFest?
Every September we take time to "Rewrite" the past. What used to be the saddest day in Toontown's history now marks the beginning of Toontown's greatest celebration. Instead of loss, we can remember revival. This year we have parted the sands of time to grab at the beginning: a dream for a brighter future with a Toontown made whole again. This year we will see that realized.
The hype train is about to leave the station.
Are YOU Toon Enough?
---
Comments
Sorry! Comments are closed.
---
---
---
---
---
---
---
---
---
---
---
---
---
---
---
---
---
---
---
---
---
---
---
---
---
---
---
---
---
---
---
---
---
---
---
---
---
---
---
---
---
---
---
---
---
---
---
---
---
---
---
---
---
---
---
---
---
---
---
---
---
---
---
---
---
---
---
---
---
---
---
---
---
---
---
---
---
---
---
---
---
---
---
---
---
---
---
---
---
---
---
---
---
---
---
---
---
---
---
---
---
---
---
---
---
---
---
---
---
---
---
---
---
---
---
---
---
---
---
---
---
---
---
---
---
---
---
---
---
---
---
---
---
---
---
---
---
---
---
---
---
---
---
---
---
---
---
---
---
---
---
---
---
---
---
---
---
---
---
---
---
---
---
---
---
---
---
---
---
---
---
---
---
---
---
---
---
---
---
---
---
---
---
---
---
---
---
---
---
---
---
---
---
---
---
---
---
---
---
---
---
---
---
---
---
---
---
---
---
---
Back To Top