More News
The Main Event | ToonFest 2017
Posted by The Toontown Team on July 28, 2017 at 12:20 PM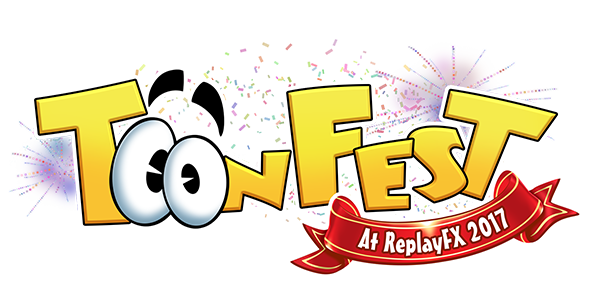 Welcome to your daily hype update! The Toon Spirit is boiling over here at ToonFest at ReplayFX and we can't contain it any longer!
First and foremost is the absolutely Toontanic, Toontastic, terrifically teeth shattering event that is going to be today's panel. It will be livestreamed directly from ToonFest to your screem, glove-delivered by our top notch Toon Troopers committed to making this a Tooniverse-wide event! Toons of the World can UNITE down below to watch the Main Event.
(12:30 PM Toontown Time/3:30 PM ToonFest Time)
Additionally, Jesse Schell and Shawn Patton will be hanging out at the ToonFest booth prior to and after the panel. Our Trolley mechanics have fully adjusted the ballyhoo phasers to maximum capacity! This train is taking us to exciting places.
An alternate stream is available on our Instagram account via mobile.
I simply cannot contain my excitement! If you don't spill some panel beans NOW, I'm going to burst!
Well, dear reader, I can tip the jellybean jar in your favor a bit. The panel will feature awesome announcements, rich reveals, and ultimate updates that you won't want to miss.
For You and Your Toon
We have celebratory memorabilia for all of Toontown! If you go to the settings page in your Shtickerbook and enter in the code
replayfx2017
, special items will be delivered to you in the mail. Don't delay! These items will only be available until Friday, August 4th at 2:00 PM Toontown Time.
Time to Toon In!
That's all we have for today! Stay TOONed to the blog for more updates and follow us on social media for a more immersive ToonFest at ReplayFX experience!
---
Comments
Sorry! Comments are closed.
---
---
---
---
---
---
---
---
---
---
---
---
---
---
---
---
---
---
---
---
---
---
---
---
---
---
---
---
---
---
---
---
---
---
---
---
---
---
---
---
---
---
---
---
---
---
---
---
---
---
---
---
---
---
---
---
---
---
---
---
---
---
---
---
---
---
---
---
---
---
---
---
---
---
---
---
---
---
---
---
---
---
---
---
---
---
---
---
---
---
---
---
---
---
---
---
---
---
---
---
---
---
---
---
---
---
---
---
---
---
---
---
---
---
---
---
---
---
---
---
---
---
---
---
---
---
---
---
---
---
---
---
---
---
---
---
---
---
---
---
---
---
---
---
---
---
---
---
---
---
---
---
---
---
---
---
---
---
---
---
---
---
---
---
---
---
---
Back To Top