More News
Sneak Peek: Crocodile and Deer | Backstage Toontown
Posted by The Toontown Team on August 11, 2017 at 5:00 PM
Step right up, folks! Behold the amazing
New Toon Species
, coming soon to a town near your Toon! Today, the Toontown Team is bringing you an exclusive look of the two new Toons coming to Toontown with our
version 2.0.0 update
, which was announced at ToonFest 2017.
What are you still reading this header for? Let's go check them out!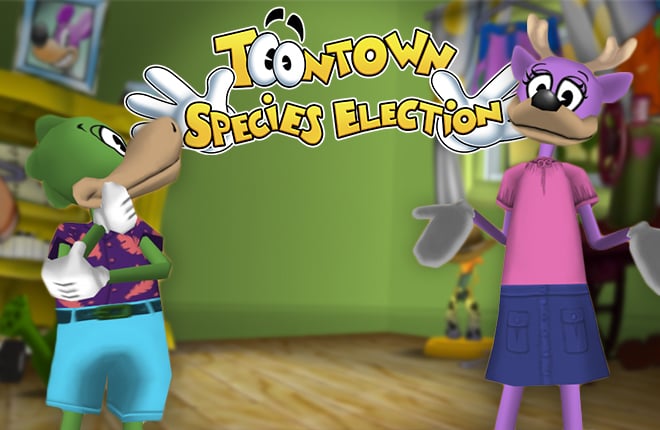 As most of you know, the Deer and Crocodile were the two most popular species of the Toon Species Election, whom all of Toontown was able to nominate and vote on. We've been working on prototyping these new Toon Species for months now, making sure that they fit into every aspect of Toontown from the way they look to the sounds they make.
This is where YOU come in. Your job isn't over yet! Although we've picked the New Toon Species together, we need YOUR help
(I mean it, YOU!)
to finalize these species before they are released for everyone to play. What do you like about them? What could be better? Which one is your favorite?
Our artists have created a video that showcases the Crocodile and Deer sounds in-game, which have changed slightly since our "Out-of-Beta Beta Testers" tested them at ToonFest. In particular, we're looking to hear feedback about the
Deer sound effects
, but we'll gladly take feedback on anything relating to the new Toon Species. Check out the video!
It's been a challenge to design sounds for an animal that doesn't have a distinct sound, but we're determined to get it right. Tell us what you do or don't like about the current sounds so that we can make them better!
We're currently finalizing our v2.0.0 update, which will be released to Toons worldwide sometime in the next few weeks. As we said during ToonFest, we're aiming to release this update before the end of August.
Note that the Toons you see here may not look exactly like the ones released in game!
In the meantime, keep your eyes peeled for an upcoming blog post that tells you EVERY stinkin' detail about what happened ToonFest 2017, and what else to expect in this brand new update!
Believe it or not, there's even more features and fixes packed in there that we didn't even tell you about at ToonFest... Stay
TOON
ed!
---
Comments
Sorry! Comments are closed.
---
---
---
---
---
---
---
---
---
---
---
---
---
---
---
---
---
---
---
---
---
---
---
---
---
---
---
---
---
---
---
---
---
---
---
---
---
---
---
---
---
---
---
---
---
---
---
---
---
---
---
---
---
---
---
---
---
---
---
---
---
---
---
---
---
---
---
---
---
---
---
---
---
---
---
---
---
---
---
---
---
---
---
---
---
---
---
---
---
---
---
---
---
---
---
---
---
---
---
---
---
---
---
---
---
---
---
---
---
---
---
---
---
---
---
---
---
---
---
---
---
---
---
---
---
---
---
---
---
---
---
---
---
---
---
---
---
---
---
---
---
---
---
---
---
---
---
---
---
---
---
---
---
---
---
---
---
---
---
---
---
---
---
---
---
---
---
---
---
---
---
---
---
---
---
---
---
---
---
---
---
---
---
---
---
---
---
---
---
---
---
---
---
---
---
---
---
---
---
---
---
---
---
---
---
---
---
---
---
---
---
---
---
---
---
---
---
---
---
---
---
---
---
---
---
---
---
---
---
---
---
---
---
---
---
---
---
---
---
---
---
---
---
---
---
---
---
---
---
---
---
---
---
---
---
---
---
---
---
---
---
---
---
---
---
---
---
---
---
---
---
---
---
---
---
---
---
---
---
---
---
---
---
---
---
---
---
---
---
---
---
---
---
---
---
---
---
---
---
---
---
---
---
---
---
---
---
---
---
---
---
---
---
---
---
---
---
---
---
---
---
---
---
---
---
---
---
---
---
---
---
---
---
---
---
---
---
---
---
---
---
---
---
---
---
---
---
---
---
---
---
---
---
---
---
---
---
---
---
---
---
---
---
---
---
---
---
---
---
---
---
---
---
---
---
---
---
---
---
---
---
---
---
---
---
---
---
---
---
---
---
---
---
---
---
---
---
---
---
---
---
---
---
---
---
---
---
---
---
---
---
---
---
---
---
---
---
---
---
---
---
---
---
---
---
---
---
---
---
---
---
---
---
---
---
---
---
---
---
---
---
---
---
---
---
---
---
---
---
---
---
---
---
---
---
---
---
---
---
---
---
---
---
---
---
---
---
---
---
---
---
---
---
---
---
---
---
---
---
---
---
---
---
---
---
---
---
---
---
---
---
---
---
---
---
---
---
---
---
---
---
---
---
---
---
---
---
---
---
---
---
---
---
---
---
---
---
---
---
---
---
---
---
---
---
---
---
---
---
---
---
---
---
---
---
---
---
---
---
---
---
---
---
---
---
---
---
---
---
---
---
---
---
---
---
---
---
---
---
---
---
---
---
---
---
---
---
---
---
---
---
---
---
---
---
---
---
---
---
---
---
---
---
---
---
---
---
---
---
---
---
---
---
---
---
---
---
---
---
---
---
---
---
---
---
---
---
---
---
---
---
---
---
---
---
---
---
---
---
---
---
---
---
---
---
---
---
---
---
---
---
---
---
---
---
---
---
---
---
---
---
---
---
---
---
---
---
---
---
---
---
---
---
---
---
---
---
---
---
---
---
---
---
---
---
---
---
---
---
---
---
---
---
---
---
---
---
---
---
---
---
---
---
---
---
---
---
---
---
---
---
---
---
---
---
---
---
---
---
---
---
---
---
---
---
---
---
---
---
---
---
Back To Top