More News
Welcome To The New Toontown Website | ToonFest 2017
Posted by The Toontown Team on July 27, 2017 at 6:30 AM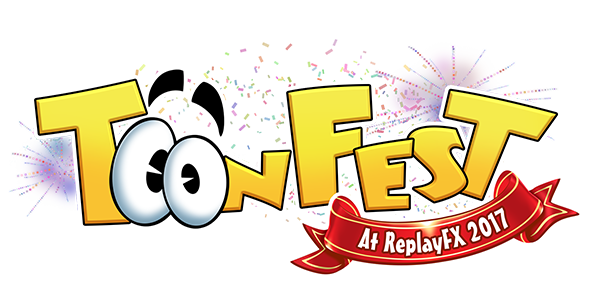 The most TOONTASTIC event of the year is finally here!
A bunch of the Toontown Team is in Pittsburgh, Pennsylvania at ReplayFX 2017 with a weekend full of excitement in store. Luckily, not all of us are gone! We're here to keep you up-TOON-date throughout this exciting weekend, and you're not going to want to miss a second of it.
Before we jump into the details, let us officially say to Toons far and wide:
Welcome to ToonFest at ReplayFX 2017!
Whether you're at the event or following along at home, you are now officially part of the biggest celebration of Toontown on this side of the Tooniverse. Let's check out what to expect!
Toontown Has a New Look
Boy, look at that shine! You didn't think those eyes we've been putting on our advertisements were just for decoration, did you? There's a reason that this is the first time you're seeing this year's ToonFest logo!
Our artists have worked hard to take the original Toontown logo and rework it into something much more polished, and we feel that it truly represents what Toontown is all about. This logo has been perfectly smashed, squashed, and splattered to make it into the most wacky logo we could create to represent our game.
It may take some time to get used to the change -- but give it a try, and let us know what you think! This logo will be rolling out to other areas outside of the website soon.
We Have a New Website, Too!
It only took a few years of trial and error, but as promised, we've officially redesigned Toontown's website to be more interactive than ever! This website is only in its most basic form right now, and we'll be rolling out a number of changes over the next few weeks to bring more functionality that we know players want to see.
If you see anything goofy -- let us know! There may be some lingering bugs and lackluster styles that'll be fixed up as soon as we return from ToonFest.
Let us know what you think of the website,
which is now mobile friendly
!
We're Not Done Yet!
We hope that these big changes have made you excited -- but this is only the beginning. Today is the first day of ToonFest, and the real fun comes tomorrow with our big panel.
To view our newest announcements,
watch our livestream tomorrow at 12:30 PM Toontown Time (PST)
(Or 3:30 PM ToonFest Time, for those attending!)
, right here on the website! A news post will be released with a link to the livestream before it starts. You can learn more about these livestreams in our
ReplayFX Announcement Post
about the panels.
Stay
TOON
ed for more information throughout the weekend, and don't forget to stop by in-game and have some fun with the Toon Troopers!
---
Comments
Sorry! Comments are closed.
---
---
---
---
---
---
---
---
---
---
---
---
---
---
---
---
---
---
---
---
---
---
---
---
---
---
---
---
---
---
---
---
---
---
---
---
---
---
---
---
---
---
---
---
---
---
---
---
---
---
---
---
---
---
---
---
---
---
---
---
---
---
---
---
---
---
---
---
---
---
---
---
---
---
---
---
---
---
---
---
---
---
---
---
---
---
---
---
---
---
---
---
---
---
---
---
---
---
---
---
---
---
---
---
---
---
---
---
---
---
---
---
---
---
---
---
---
---
---
---
---
---
---
---
---
---
---
---
---
---
---
---
---
---
---
---
---
---
---
---
---
---
---
---
---
---
---
---
---
---
---
---
---
---
---
---
---
---
---
---
---
---
---
---
---
---
---
---
---
---
---
---
---
---
---
---
---
---
---
---
---
---
---
---
---
---
---
---
---
---
---
---
---
---
---
---
---
---
---
---
---
---
---
---
---
---
---
---
---
---
---
---
---
---
---
---
---
---
---
---
---
---
---
---
---
---
---
---
---
---
---
---
---
---
---
---
---
---
---
---
---
Back To Top