More News
To Party, or Not to Party?
Posted by Fat McStink on August 31, 2017 at 2:00 PM
There ain't no party like a Toontown party 'cause a Toontown party won't stop! At least, that's what I thought
three years ago
when I hosted
The Greatest Party in the Tooniverse
. I've always been known as the Toon Trooper who could never get anyone to attend my parties or plays, but that's all turned around. I'm here to announce that
Toon Parties are BACK!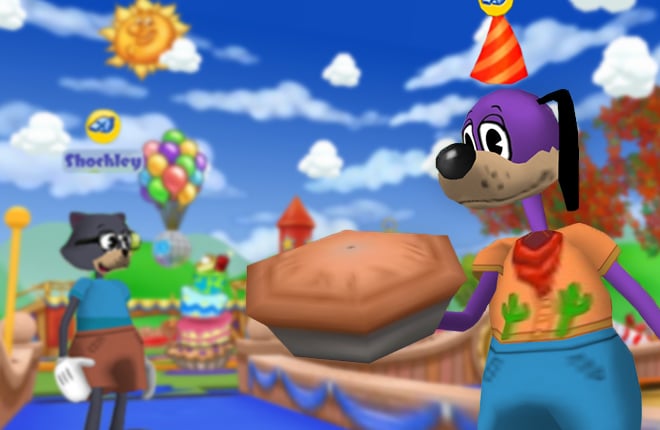 Toon Parties, for those who don't know, allow Toons to host their own events for their friends, or the general population. You get to design your own party grounds with whatever decorations or minigames you want! Previously, Toon Parties only had 3 activities enabled. Now, however,
Toon Parties are being released with ALL activities available!
So, what ever happened to The Greatest Party in the Tooniverse? After the Alpha period ended, it turns out that party had a ridiculous amount of code violations. I'm talking
major
stuff. The old Toon Trooper who used to help me out, Muddy Paws, jumped on one of those trampolines and was launched so high that we haven't seen him ever since!
After the Toon Parties closed, my spirits were a little crushed. I took some time off to do other things: I took a few years of improv, studied more Shakespeare, and completed
some Toon Trooper duties
here and there.
In my time away from public events, things started to change. An agent loved my improv and granted me a starring role in
The PhanToon of the Opera
, which spun my life into a completely new direction! I finally had adoring fans, and I was living my dream!
Earlier this year, however, I received a call from one of my old Toon Trooper pals, Hawkheart. He talked about needing assistance to bring back Toon Parties. I was the perfect Toon for the job, but I would need to leave my new life as a playwright behind. I was given a dilemma:
To Party, or Not to Party? That is the question.
To party it is. I'm back, Toontown, and this party officially will not stop! It's like I said in my critically-acclaimed play,
Twelfth Pie-Fight: "Be not afraid of parties: Some are born planners, some attend parties, and some have parties thrust upon them."
Myself? Why, I consider myself to be a Party Planner. That's exactly why
TOMORROW
, when Toontown's biggest update
ever
launches,
Toon Troopers will be hosting parties all week long
to celebrate this gigantic event!
You heard me right, Toons. Tomorrow is the official launch of
Toontown v2.0.0
, where we'll be releasing Racing, new Species, and Toon Parties to all of Toontown! We may have missed our August 31st deadline, but hey, it's only by a day. This update is worth it!
There's just one part of this update left to announce, so keep your eyes peeled on the blog tomorrow. I'll see you at the party grounds!
---
Comments
Sorry! Comments are closed.
---
---
---
---
---
---
---
---
---
---
---
---
---
---
---
---
---
---
---
---
---
---
---
---
---
---
---
---
---
---
---
---
---
---
---
---
---
---
---
---
---
---
---
---
---
---
---
---
---
---
---
---
---
---
---
---
---
---
---
---
---
---
---
---
---
---
---
---
---
---
---
---
---
---
---
---
---
---
---
---
---
---
---
---
---
---
---
---
---
---
---
---
---
---
---
---
---
---
---
---
---
---
---
---
---
---
---
---
---
---
---
---
---
---
---
---
---
---
---
---
---
---
---
---
---
---
---
---
---
---
---
---
---
---
---
---
---
---
---
---
---
---
---
---
---
---
---
---
---
---
---
---
---
---
---
---
---
---
---
---
---
---
---
---
---
---
---
---
---
---
---
---
---
---
---
---
---
---
---
---
---
---
---
---
---
---
---
---
---
---
---
---
---
---
---
---
---
---
---
---
---
---
---
---
---
---
---
---
---
---
---
---
---
---
---
---
---
---
---
---
---
---
---
---
---
---
---
---
---
---
---
---
---
---
---
---
---
---
---
---
---
---
---
---
---
---
---
---
---
---
---
---
---
---
---
---
---
---
---
---
---
---
Back To Top