More News
Super Saturday: The Greatest Party in the Tooniverse
Posted by Fat McStink on February 1, 2014 at 2:00 PM
Fat McStink here again. And man, am I excited to be here! I'm here to throw another party, one of my favorite pastimes. A really good one. The Greatest Party in the Tooniverse, in fact.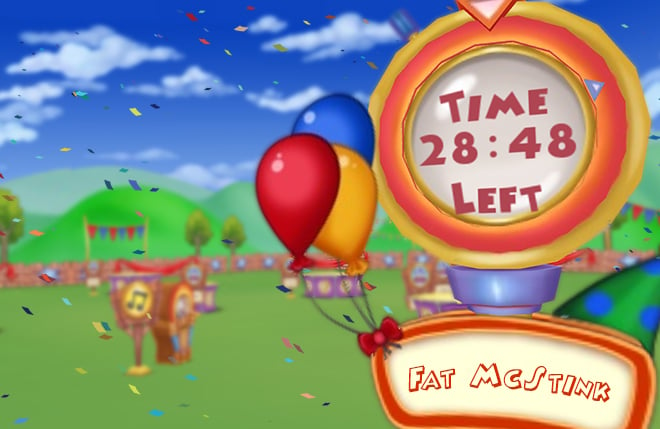 Now, I hear you. "He's doing this again?" From
Doglet
to
Improvaganza
, I've hosted some really good parties. Too bad they were cursed with bad weather or other issues that didn't let people get there. I've mostly gotten over
my birthday party
, after talking with Julie some...
But this time is different. A very nice scientist approached me recently with all of these amazing drawings for what would surely be the The Greatest Party in the Tooniverse. There were cannons, streamers, trampolines, even a giant party hat to serve as a gate to the Party Grounds!
No more Improvaganza, groundbreaking plays, or well-catered birthday parties. A Party Gate has been installed in every area so anyone can spend a few Jellybeans to plan The Greatest Party in the Tooniverse in just a few minutes -- I'll even send out the invites for you!
Now, guys, The Greatest Party in the Tooniverse might get pretty out of hand. To prevent anyone from partying too hard too quickly (and having to see Doctor Pulurleg), Parties are starting out with three activities: Trampolines to bounce you into the sky, some toony tunes on the Jukebox, and a Grand Fireworks Display! Hang onto your socks toons, as this is sure to be the most Preposterously Partytastic week of Toontown yet!
For my final announcement: We're rounding up the end of alpha, and I have the honors to announce the
very last Daily Vote
! We've voted for Trolley games, Speedway races, and even animations for us toons to express. Toontown is practically complete, so it is both exciting and sad to think that this is the last time we'll be able to vote on new content for our town -- at least for a while. Alpha Testers, head on over to MMO Central Forums to vote on which Party Activity you want added next!
By the way, Sir Max... you aren't invited. I saw your message yesterday, and I'll have you know that Improvaganza was described by the Toontown Times as "too confusing to be offensive". High praise, indeed.
Thank you all for this awesome Super Saturday, and I
cannot
wait to see you at my party!
February 1, 2014 [ttr-alpha-g80bc887]
Maintenance:
• Many protocol and architecture changes for parties

Bugfixes:
• Fix some overlays being white rather than grey

Features:
• Added Party Planners to every neighborhood
• The Party Gates are open!



• To celebrate this week of Preposterous Parties, everyone can plan their own party for free!
• Spring into the air to collect Jellybeans with Toontastic Trampolines
• Enjoy some toony tunes at the Jukebox (Both 20 and 40 songs)
• End your party fun with a Grand Firework Display!



• Added Command + M and Command + H to maximize and hide the game window on OSX

---
Comments
Sorry! Comments are closed.
---
---
---
---
---
---
---
---
---
---
---
---
---
---
---
---
---
---
---
---
---
---
---
---
---
---
---
---
---
---
---
---
---
---
---
---
---
---
---
---
---
---
---
---
---
---
---
---
---
---
---
---
---
---
---
---
---
---
---
---
---
---
---
---
---
---
---
---
---
---
---
---
---
Back To Top